Visio Divina. I had never heard that term before, not before hearing it on a webinar. Sr. Glynis McManamon, RGS, and Fr. Mark Dean, OMI, conducted a seminar over the internet a few months ago about the spirituality of art. I listened to the webinar and was struck by the unfamiliar term Visio Divina.

Visio Divina invites us to experience the divine through images. It invites us to see at a more contemplative pace, seeing deeply, below initial ideas, judgements or understandings. Visio Divino invites us to open our eyes, heart and mind so that we can be transformed by God.

As a photographer and appreciator of fine art, this sparked my imagination and alerted me to a new way of praying. I began to experiment with it. Then, in October the Oblates of Mary Immaculate made it known that Fr. Mark would conduct a Visio Divina at their monastery in Godfrey, Illinois. The Visio Divina would be outdoors, in nature, on 300,000 year-old bluffs overlooking the confluence of three rivers. We would be using our eyes to encounter God there. This was the absolute perfect scenario for me. I signed up to attend.

The day arrived. Participants met one another and Fr. Mark reviewed the steps involved in Visio Divina. I took a pen and journal with me as I strolled from the monastery out into nature. I took my camera too.

In silence I observed the details in creation without critique. I allowed unfiltered thoughts and feelings to arise within me, and I began to ask myself questions: How do these feelings connect with my life? What is stirring within me? How am I being drawn to respond? Has my own experience been similar to what I am seeing in nature? Where in my life does the power of the resurrection work in me?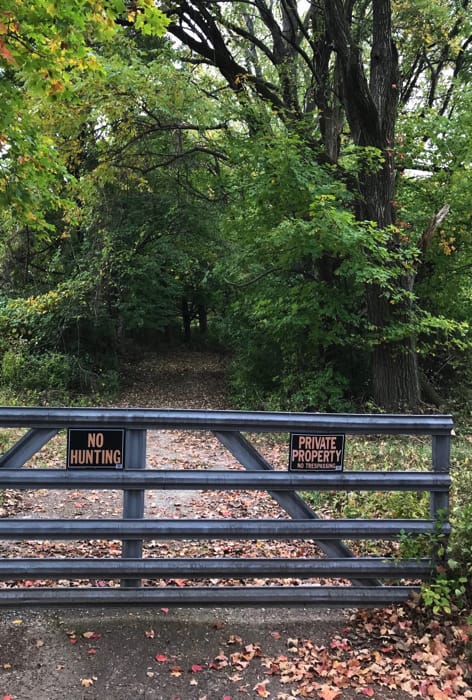 Here is a sampling of my reflections:
Barriers
Pathways beckon and call out, urging me to trust that all will be well when I step beyond the gate and private property sign that says, "No Trespassing." If I let barriers shield me from the unknown then I will never experience what lies ahead for me.
Water
Three rivers ever flowing, renewing life as they draw in fresh deposits while whisking away that which is stagnant. Sedges and wildflowers dance with the breeze along the river's edge and insects, mammals and birds rustle in the underbrush. Dried leaves crumple as they let go of limbs and fall to rest beside blooms that have turned to seed. Fragile cicada skins cling to rugged bark and Mother Nature ends one cycle to begin another. The only thing consistent in life is change.