Sharon O'Grady, RGS, stirred my consciousness when she suggested I write about outreach ministries in the Province of Mid-North America (PMNA). She is doing a service to the whole of Good Shepherd by drawing my attention to her passion for these ministries. We now have an ongoing series about outreach ministries in the province and the Sisters who serve in them in our Items of Interest,
Sisters serve in communities where they live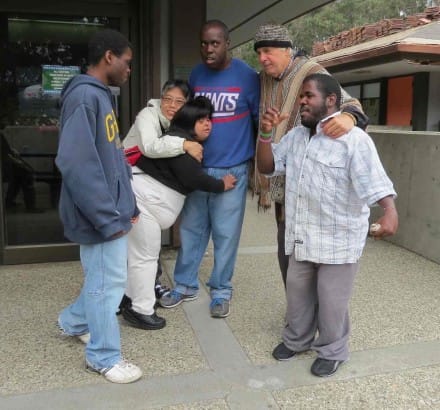 Most people tend to think of Good Shepherd ministries in Mid-North America as being institutional. At one time this was the case; however, in the last 30 years, Good Shepherd has branched out. Today, 26 Sisters serve in outreach ministries in the communities where they live. Five Sisters hold staff positions in ministries owned and operated by the province, with an additional six Sisters serving on these ministry boards.
"We need to develop a theology around outreach ministries. We need to invest time and energy in learning about one another's ministries so that we can increase ownership of them," said Maureen Kunz, RGS.
Sister Maureen finds it incredible to witness Good Shepherd's outreach in communities across the United States. For example, Good Shepherd has a presence in San Francisco with homeless people in the marginalized Tenderloin district through Sr. Jean Marie Fernandez. Presence in the city also includes ministering to adults with disabilities through Sr. Danielle Fung and supporting long-term hospital patients through Sr. Olga Cristobal.
Good Shepherd's presence in Oregon includes working with families with mental illness through Sr. Joan Spiering, online therapy through Sr. Carmel Irving, and Zoom-based spiritual direction through Sr. Cathie Boerboom.
Outreach ministries reach across 13 states
This is a small sample of PMNA's Good Shepherd outreach ministries. All said, Sisters of the Good Shepherd Province of Mid-North America has a presence in multiple ministries across 13 states.
"We are serving people with each Sister who is out there. These ministries are Good Shepherd Sisters responding to the mission beyond our sponsored ministries. They are "corporate" in new and fresh ways," Sr. Maureen said.