Sr. Anne Kelley received a Lifetime Achievement Angel Award last month for 21 years of dedicated service to the Good Shepherd Shelter in Los Angeles.
The Good Shepherd Shelter Guild held its annual benefit gala on October 9, 2016 and honored Sr. Anne Kelley with its distinguished award.
"Honoring Sr. Anne was a perfect tie in to our theme Once Upon a Time … because of her years of dedication," said David Rodrigues, Benefit Chair.
"The past and present are tied together with stories. Sr. Anne shared some of the stories that shaped the shelter. One of the moms spoke and also shared her story. This helped to make our guests more aware of what we do and demonstrated how their support adds to the story as we grow our future," David said.
In her remarks to the audience, Sr. Anne said, "Everything I am and have learned and have done here has been due to all of you – the Sisters, staff, volunteers, friends, family, donors and the mothers and children we serve. We are a team and the only thing that is mine is the joy, privilege and honor of being a part of this ministry."
"I wish I had an award for each of you," Sr. Anne continued. "Know that you are mounted in gold in my grateful heart."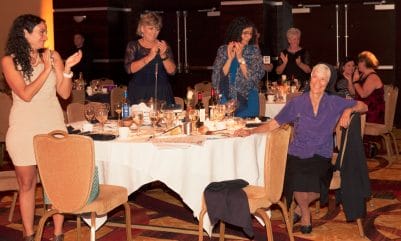 The gala grossed more than $200,000, including $88,300 from the silent and live auctions and Donation Ask. Platters, which children in the shelter painted, each fetched $2,500. The platters are always a draw, according to Geri Simmons, Guild treasurer and past-president.
According to Geri, 276 people attended the gala. She said, "The 2016 gala was our 18th event and most successful to date. I've had many attendees call me to say how much they enjoyed the evening."
Special guests included general assignment reporter for NBC4 Southern California Patrick Healy and Ashton Smith, one of Hollywood's most popular voice actors.

Sr. Anne has joined the Good Shepherd San Francisco Community, where she will help raise funds for Good Shepherd Gracenter, a residence home for women recovering from addictions.
Thanks to Margaret Norton for permission to use her photographs.