For the second year in a row, leaders of various faith traditions went to Honduras to stand in solidarity with the people of Honduras as they struggle with poverty, violence, and a corrupt, illegitimate government.  From March 18 to March 25, the 75 faith leaders spread out across Honduras to meet face-to-face with the people of Honduras, local government leaders, military/police officials, and U.S. Embassy representatives.  
The dates of the pilgrimage coincided with the first anniversary of the canonization of St. Oscar Romero. For many, he was our unseen, fellow pilgrim. His voice echoed within us to be messengers of peace, to be prophets. A specific aim of the pilgrimage was to bring his spirit of truth and justice to Honduras. 
Trampling on human rights
Caught between the violence of gangs who kill with impunity, a military/police who trample on human rights, and a corrupt, inefficient government, the people barely survive from day to day. Small business owners have to pay extortion to gang members and are forced to sell illegal drugs. There is no recourse to the police since the gangs also control the police. With the absence of a strong, respected civic government, international firms can easily exploit the country's resources, degrade the environment, and further impoverish the people.
The interfaith delegation included Jewish, Buddhist and Christian leaders. Most pilgrims were from the United States, with several joining from South America. I went to Honduras to be in solidarity with the people and to carry the love and compassion of the Sisters of the Good Shepherd in North America. I wanted to serve as a witness and to share what I experience with the Sisters and with Members of Congress upon my return.
Meetings with communities
We met with officials and grassroots and religious partners in order to better understand the causes that have moved increasing numbers to flee from Honduras. Some members of the delegation met with women factory workers and with community members who are protesting the opening of new mines.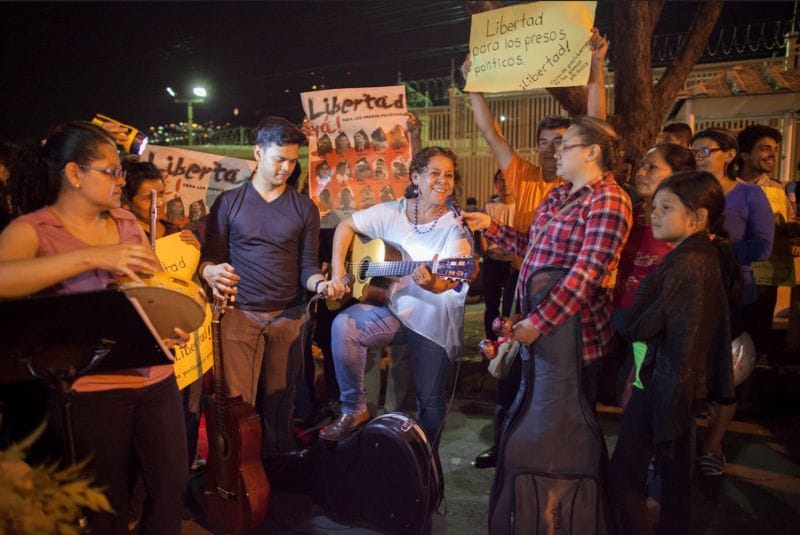 Some delegates also met with a group in a homeless community where two women talked about earning $1 per day picking up plastic bottles, 15 percent of which goes to the municipality. In addition, we met people who are basically joyful, musical and hopeful, and who express nonviolent rituals for peace.
We spoke with an embassy spokeswoman who represents the U.S. administration about the weak institutions in Honduras that make improvements difficult. According to the spokeswoman, the poor people of Honduras — 60% of the population — never see aid from the United States.
I kept a daily blog of reflections while on the pilgrimage. You can read my blog at gsadvocacy,org/blog. Stories can also be found at Global Sisters Report.