Mason Pointe Care Center will become the new home for Sisters when they move from their long-time home at Immaculate Heart Convent in Normandy to their new permanent home 18 miles away at Mason Pointe. The move is scheduled for next week — December 10th and 11th.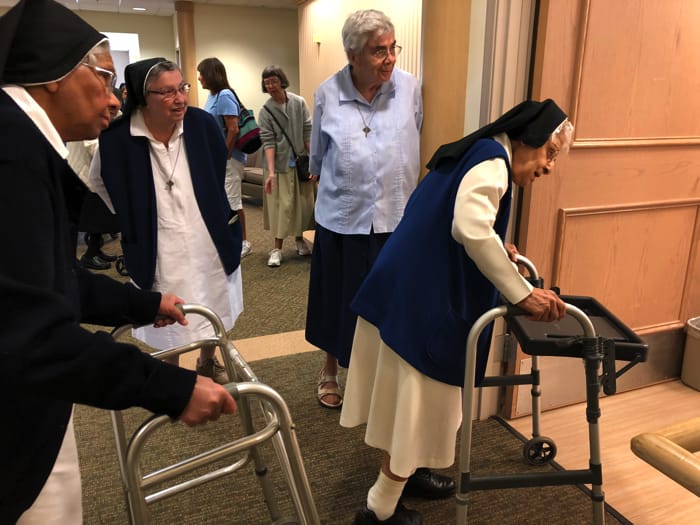 Lutheran Senior Services (LSS), which operates Mason Pointe, are preparing a special area for all 24 Sisters to live together. Sisters will receive long term care, assisted living and independent living services, along with a newly-built chapel for daily prayer.

The chapel will include two large stained glass windows from Immaculate Heart Convent. One window features the Sacred Heart of Jesus. The other represents the Immaculate Heart of Mary. The windows were handcrafted in Germany and have been a part of Good Shepherd since 1924.
Like Divine Providence, the door to Mason Pointe opened
"Earlier this year, the Sisters of the Good Shepherd were searching for a new place to care for their aging Sisters, a single location where they could all live together," said Carla Baum, Lutheran Senior Services Network Director.

"They knocked on the door of Mason Pointe and like Divine Providence it opened. The Sisters and Lutheran Senior Services are meeting at a place that will benefit one another now and in the future," she said.

Sister Madeleine Munday, Province Leader for Mid-North America, said, "This move is a beneficial arrangement for the future of senior care. The Sisters are eager to meet their new neighbors and share life with them. We feel confident that our Sisters are going to get great care at Mason Pointe."

Dwelling Place
Sister Pauline Bilbrough, Local Leader for Immaculate Heart, said, "Scripture tells us that we have not here a lasting dwelling place. Our foundress Saint Mary Euphrasia tells us to go forward and be the presence of Good Shepherd wherever we are."

"The Sisters of the Good Shepherd will find everything at Mason Pointe they've had at their current North County location…and more," said Gary Anderson, Executive Vice President and Administrative Officer of Lutheran Senior Services.

"Space will be available for Sisters at multiple levels of care. A chapel, currently under construction, will provide a centerpiece for daily worship. A Heritage Wall will tell a 'story in pictures' of the Jewish, Catholic, and Lutheran traditions that have occupied this West County space," Anderson said.

Immaculate Heart Convent was no longer suitable for the needs of Sisters. To ease the transition to Mason Pointe, Lutheran Senior Services provided job opportunities for the staff at Immaculate Heart. Mason Pointe also has room for more Sisters in the future.
Similar missions and histories
"This is an important chapter for Lutheran Senior Services, which has roots in the Lutheran faith and service to one another," said CEO John Kotovsky "We have always served people of all denominations, and, like the Sisters of the Good Shepherd, we are defined by our commitment to those we serve."

Kotovsky added that both organizations share similar histories and missions of serving others. Sisters of the Good Shepherd came to the United States in 1842, about the time that LSS was putting down its spiritual roots.

Both organizations were founded to answer specific needs in the greater community and to provide physical and spiritual care for the most vulnerable. And both organizations have always approached their work with a combination of mission-driven and contemplative action.

"From all perspectives, Mason Pointe seems like the perfect place to support continuation of this work, and we look forward to welcoming our newest residents," Kotovsky added.
Mason Pointe has a Heritage Wall that shows its history through photographs. The Heritage Wall will soon include photographs of Good Shepherd Sisters as a part of the unfolding story of Lutheran Senior Services.
LSS Mission
Lutheran Senior Services specializes in housing, care, and supportive services for older adults aged 62 and over. With 21 locations in Missouri and Illinois, LSS serves more than 11,000 seniors a year and offers all levels of living. LSS builds upon 160 years of excellence in living out its Christian mission of helping older adults live life to the fullest.