Marie Maurer, RGS

August 13, 1940 – December 7, 2016
How do we tell a story about a woman like Sr. Marie Maurer? Words are inadequate. We can only make a feeble attempt to capture the aspects of her life. Others can keep adding their own bits to the story of Sr. Marie, who was also called Marie Bernarde and known by her family as "Tootsie."
Sr. Marie was a woman of simple faith who had a large heart for the most abused, troubled and suffering people of our world. Her story begins, as all stories do, at birth. Dorothy Clara was born on August 13, 1940, to Carl and Dorothy Maurer in North Philadelphia, Pennsylvania. She was the third of five children born to this couple.
The family lived in a middle class neighborhood until Dorothy was seven years old, when her father lost his job. This forced the family to move into a poor section of town. Living amidst poverty, violence and gangs on the North Philly streets toughened her exterior. The family suffered many hardships during this time. At age 14, Dorothy went to work. Instead of going to high school she went to business school. She graduated within two years and took a job as a secretary clerk, a job she hated.
During her teenage years Dorothy started to develop strong relationships with God and Mary. She also had a Guardian Angel, whom she named Christopher. As Marie matured, her simple faith also matured. Her faith sustained her as a teenager and grew deeper over the years and into her final days. Her love of God as Abba, Mary as Mother and Christopher, her angel, remained with her throughout life.
Marie Maurer: her vocation story
Every vocation story is unique, and the story of Sr. Marie Maurer and her Call to Religious Life is no exception. Her Call came by accident when, as a teenager in a frightful situation, young Dorothy blurted out to a priest that she wanted to be a nun.
The priest gave her a big book of Religious Orders and told her to pick out some of them and write to them. Dorothy wrote to several. Only two of them responded, one of them being Sisters of the Good Shepherd. Dorothy feared that two things might prevent her from being accepted into the Order: (1) she hadn't graduated from high school, and (2) she had no money for a dowry. Her worries proved unfounded, as Good Shepherd invited her to come.
Dorothy entered the convent in Fox Chase, Pennsylvania, at the age of 17. She received her new name Marie Bernarde, after St. Bernadette Soubirous, a Saint who was special to Sr. Marie. Sr. Marie was Professed as a Good Shepherd Sister on September 29, 1960, and made her Vows final on October 1, 1965. Vocations had become very important to Sister Marie throughout her religious life. Right up until her death she prayed for the Lord to send 50 new candidates to Good Shepherd.
Marie Maurer: her ministries
Sr. Marie served faithfully in administration and leadership capacities in various ministries. The ministries she loved best were those that served troubled teenage girls and boys, abused women and their children, cultural outcasts, migrants and the poor. The many challenges of her early life gifted her with strength, compassion, firmness and understanding. She brought these gifts to her many apostolic ministries. Her smile, sense of humor and common sense helped bring hope to many people who had been ready to give up.
Sister served as residential group leader, teacher, counselor and director of a group home for boys. She served as a missionary to Guam and worked with Appalachian migrants in Cincinnati, Ohio. She ran a commercial laundry in our Vocational School in her early years of religious life.
Sr. Marie was one of several Sisters who left institutional community living to reside among the poor. She and the other Sisters brought healing and reconciliation to many impoverished souls who were struggling to overcome conflicts in their lives.
Sr. Marie served for about 24 years at Lourdesmont in Scranton, Pennsylvania. She also served in Germantown, Pennsylvania; Raleigh, North Carolina; Atlanta, Georgia; Silver Spring, Maryland; Cincinnati, Ohio; Louisville, Kentucky; Chicago, Illinois; and St. Louis, Missouri. She brought stability and a sense of caring and support to all of the ministries where she was assigned.
Sr. Marie was trustworthy and loyal. She was a good friend to many people. She loved the Good Shepherd charism and lived it fully.
Marie Maurer: going home to God
In the last months of her life, unbeknownst to many, Sr. Marie suffered from a number of health problems and was in pain most of the time. She never let this impede her mission to serve as Local Leader of the St. Louis Community, Administrator of Immaculate Heart and the Province Property, and as a member of the Leadership Team for the Province.
It is a mystery how she carried out her responsibilities while bearing so much pain. As she faced the reality of her condition she wanted to live long enough to complete her tenure on the Leadership Team. She wanted to support the Province Leader and the Team, and not be a burden to them. She longed for a time of Sabbatical, which she intended to make a special time of prayer, before dying.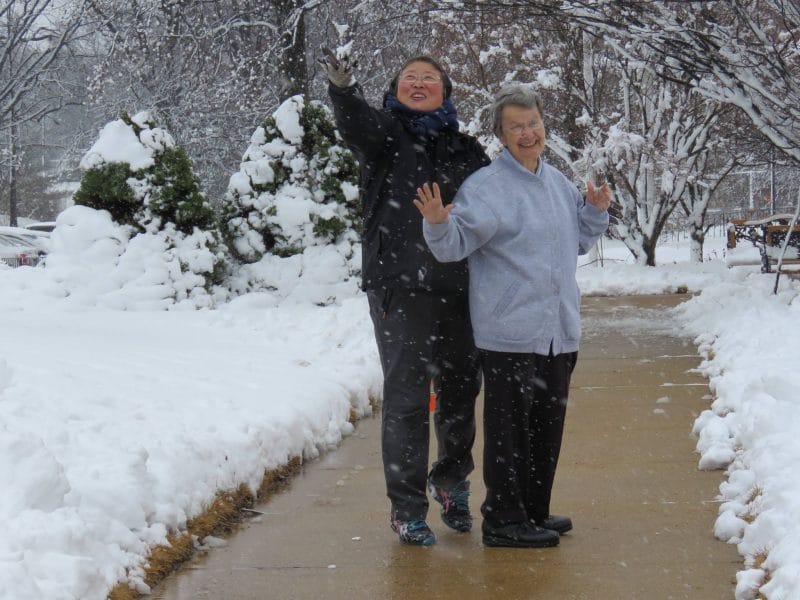 Her life on Earth ended all too soon on December 7, 2016. Sisters Madeleine Munday, Mary Carolyn McQuaid and Marta Ceballos were with Sr. Marie at her hospital bedside when she passed. Days later, people filled the chapel for her funeral, including her brother Carl and her two nieces.
Sr. Marie will be missed for a long time to come. We are grateful that she lived among us. Her story continues in our remembrances of Sister Marie Maurer, RGS.