Shadowing Winifred Doherty, RGS, at the United Nations was a fascinating endeavor. I spent the first two weeks of February shadowing Winifred at the United Nations. My goal was to document Winifred's actions as the Congregation's Main NGO representative to the UN so others might understand her role. The 54th Commission for Social Development (CSocD54) presented itself as an ideal backdrop for showing her in motion.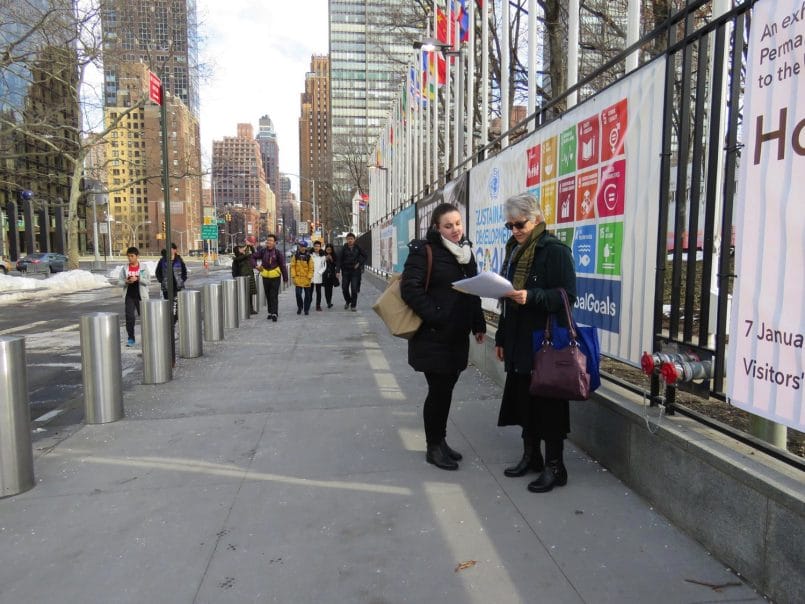 The Commission was open only to NGOs (non-government organizations) in special Consultative Status with the UN's Economic and Social Council. Our Lady of Charity of the Good Shepherd is one of 4,186 NGOs endowed with this status. Member States and NGOs came together over the two-week period to discuss how they will commit to the newly launched 2030 Agenda for Sustainable Development and utilize it to transform our world for the better.
The 2030 Agenda
CSocD54 took place at United Nations Headquarters in New York from February 3-12, 2016. It was the first Commission held after 193 Member States (nations) adopted the 2030 Agenda last September. January 2016 ushered in the official launch of the Agenda, which will now guide decisions that Member States and the UN make over the next 15 years. The 2030 Agenda seeks to build on the Millennium Development Goals and complete what they did not achieve.
"When I come to the United Nations I'm just one person representing Good Shepherd. The power is when a number of NGOs come together, when we collaborate to bring forward the various multifaceted aspects of the 2030 Agenda's Sustainable Development Goals (SDGs).
"I think this is the way we will actually implement the 17 Goals and move towards a world that is sustainable, a world where human rights are upheld, a world where there is dignity of the person and where the care of the person and care of the environment are at the heart of everything people do," Winifred said.
Between bouts of snapping photos and rolling video, like everyone else in UN sessions I settled into my seat and listened to speakers and discussions. I was struck by the intensity of the UN's oral domain. Massive amounts of talking — and listening — structured each day. As I spied Winifred through the camera lens it became evident to me very quickly how fully in her element she is with international relations.
Lively, continually active and industrious, she is clearly empowered by Spirit. She is ready at all times to lead a discussion, join a conversation or accept an invitation to present a statement. She is also quick on the draw with questions and at the forefront of power networking.
Winifred and power networking
"No work can be done here unless one is connected on multiple levels. Connected in terms of NGO committees, groups, UN agencies and connected in terms of Member States. The relational aspect of the work is the most important, where we can enter into trusting relationship to discuss issues that really matter. Collaborating with people who have expertise, gifts and talents is very important in terms of our advocacy work," Winifred said.
Watching Winifred conduct her networking skills was akin to watching a well rehearsed performance. She moves in and out of venues without breaking stride. Her energy is boundless as she darts from one venue to the other and clusters with a dizzying array of people to talk about the 2030 Agenda and its Goals.
As the days rolled by, I grasped the magnitude of the 2030 Agenda and its 17 Sustainable Development Goals and 169 targets. I began to wonder how any individual NGO could possibly succeed in implementing them. I asked Winifred for her take on the matter.
Implementing the goals
"That's a huge question," she replied. "But I think if we're saying people are at the center of the Agenda and every person is important, then Good Shepherd is already implementing these goals."
For the 2030 Agenda to work, the Commission for Social Development says some actions have to occur:
Each Member State will need to involve civil society, business and representatives of interest groups in the Agenda. Individual nations will need to review their progress and be able to report on it.

At the regional level, countries will need to share experiences and tackle common issues
The UN will need to take stock of global progress annually, identifying gaps and emerging issues, and recommending corrective action.
The power of one
At the grassroots level, Winifred believes everybody makes an impact. She said, "If everybody — and everybody begins with the power of one — is actually reflecting on and trying to do their part at any of the levels of the 17 Goals, then I am positive we are on our way to a better and sustainable future. There is a movement toward the interconnectivity of all of life. As long as we are connecting with others, then each NGO can achieve these goals," Winifred said.
CSocD54 concluded on February 12, with the Commission adopting three resolutions that had been negotiated during the two weeks. NGO's who had not yet presented were given the opportunity to be heard. In her oral statement, Winifred mentioned the Good Shepherd film Maisha as an example of how to implement the SDGs. Maisha is a collaborative grassroots project in the Democratic Republic of Congo where individuals and the community have become empowered and engaged with local government.
What's next for Winifred
Shadowing Winifred at the United Nations for two weeks was engaging and educational. As I prepared to leave CSocD54 and New York City, I asked her, "What's next for you?"
She rattled off a month-long series of UN activities starting with a meeting of the Core Group of the Global Coalition for Social Protection floors in Geneva, followed by the 60th session of the Commission on the Status of Women beginning on March 14 in New York City.
When I asked Winifred what level of participation in the UN is most significant to her, she didn't hesitate to answer with a response not surprising for a Good Shepherd.
"I have a particular engagement with women's groups at the UN. I partake with NGO groups on the status of women because I believe we need to be where women and girls are being talked about. I'm a director of a working group on girls. What we do is bring girls to the United Nations to speak for themselves. I think it is tremendous to enable girls to speak on behalf of themselves and other girls."
Each night, at the end of long, focused days at the UN Winifred heads back to the Good Shepherd International Peace Justice Office to catch up on routine activity for a few hours before boarding the subway to home, where she catches a few winks before beginning again.
Like the Energizer bunny, she keeps on going. The flame that ignites her zeal appears to be a bonfire.
How can I help with SDGs?
End extreme poverty. Fight inequality and justice. Fix climate change. Whoa! The 2030 Agenda for Sustainable Development and its 17 Goals are important, world-changing objectives. But how can I make an impact?
Sr. Winifred Doherty, the Congregation's Main NGO representative to the United Nations, said, "I would want Good Shepherd to know all 17 Sustainable Development Goals. No doubt you will be drawn to one of the 17 goals in a particular way. Work for that one, knowing that it's in the context of the whole. Wouldn't we create a beautiful fabric if we were all working for every goal differently and yet together?"
Winifred calls her place of ministry — the United Nations — gospel space. She says that every aspect of the brokenness of humanity and the brokenness of the world itself gets discussed at the UN, including how climate change is affecting the earth and the danger that we will actually destroy ourselves. You can read Winifred's view of the United Nations in the story Filling Gospel Space. The article was published in the September 2015 issue of Items of Interest.
You can follow all of Winifred's actions and advocacy on her blogsite. Learn more about the Good Shepherd International Justice Peace Office at the Congregation website.
The United Nations System
In 1945 nations were in ruins. World War II was over, and the world wanted peace. Delegates of 51 nations gathered in San Francisco that year to sign a document creating a new organization called the United Nations. United States President Franklin D. Roosevelt coined the name. These 51 nations committed to maintaining international peace and security, developing friendly relations among nations and promoting social progress, better living standards and human rights for fundamental freedoms. To embody these values, the organizers created a founding Charter, whose purposes and principles still guide the mission and work of the United Nations today.
Six organs (main bodies) form the United Nations, all of which were established when the UN formed in 1945:
General Assembly

Security Council

Economic and Social Council (ECOSOC)

Trusteeship Council

International Court of Justice

UN Secretariat
ECOSOC
ECOSOC is where Good Shepherd fits into the United Nations picture. The Economic and Social Council is the UN's central platform for reflection, debate and innovative thinking on sustainable development (economic, social and environmental). ECOSOC engages a wide variety of stakeholders: policymakers, parliamentarians, academics, foundations, business sector representatives and non-governmental organizations. It comprises 54 Member States.