Province Christmas parties abounded across the U.S. as Good Shepherd ushered in the holiday season.
Province Christmas in Atlanta
Dressed in their finest garb on a cold wintry day, 86 elderly immigrants and refugees from the Metro Atlanta region joined Good Shepherd Services (GSS) for a Christmas party on December 17. Guests who had come recently to the United States from Vietnam, China and Myanmar (Burma), where Christians are few in number, were enthralled by the unique experience.
Guests gazed at the brilliantly colored lights, ornaments and decorations. They listened to traditional Christmas hymns and received items of clothing as Christmas gifts. Parishioners of St. Brigid and Mary Our Queen had donated and lovingly wrapped the new sweaters, jackets and shoes. Vietnamese friends of GSS prepared a bountiful Christmas luncheon that was laden with favorite Asian dishes and delicious desserts.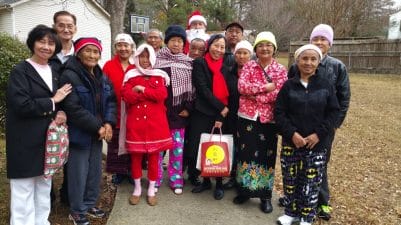 "We are so grateful to our friends and benefactors for bringing the guests to GSS. Because of them, we were able to share with our less fortunate brothers and sisters in Atlanta the joy and love of Christ's birth," Sr. Christine Truong said.

Sr. Christine is the Executive Director of Good Shepherd Services Atlanta. She spoke in three different languages to welcome the guests to the party. A Burmese employee translated her remarks for the refugees from Myanmar.

"The Christmas party reminded me once again of Scripture that has been my favorite since I was 16 years old," Sr. Christine said.

The Scripture is from the Gospel of Matthew, Chapter 25, verses 35 and 40:

"For I was hungry and you gave me food; I was thirsty and you gave me drink; I was a stranger and you welcomed me….as you did it to one of the least of these my brothers and sisters, you did it to me."
Province Christmas in San Francisco
The Good Shepherd Guild held its annual Christmas Luncheon to support Gracenter in December. Sister Liz Schille opened the program with a prayer by St. Francis. Nora Hall, Guild President, followed by drawing names for cash raffles with a winning prize of $500. Nora also presented Sr. Marguerite with a check to support Gracenter. During the meal, Gracenter's Executive Director Sr. Marguerite Bartling introduced Vanessa, a resident at Gracenter.

Vanessa told her story of learning about Good Shepherd and making the best decision of her life to come to San Francisco to start the residential treatment program. Vanessa has recently discovered her career goal to become an addiction recovery counselor. She has enrolled in a two year course at San Francisco City College to obtain her Drug and Alcohol Counselor certification. Vanessa currently works as a house manager in a residence for women with children who are seeking recovery from addiction.

"I feel touched by the dedication of the women of the Good Shepherd Guild who are so supportive of the women at Good Shepherd Gracenter. Since 1932, they have planned and organized fundraisers to strengthen women served by the Sisters of the Good Shepherd in San Francisco," Sr. Marguerite said.

Approximately 95 people attended the luncheon at the Olympic Club in Lakeside, the oldest athletic club in the United States. The club has an inspired view on any given day. On the day of the luncheon guests gazed out onto a more spectacular view than normal when much needed rain poured from the sky and drenched the drought-ridden city throughout the day.
Province Christmas in Baltimore
The GSS Baltimore Community took its annual outing on December 10th to the festive home of the parents of their haircutter Renee Schilling.
The Sisters have visited with Renee and her parents in their home during Christmas for the past four years. The tradition began with Renee asking her parents if they could contribute anything to the Holiday Store for the residents at Good Shepherd Services. This led to Renee telling her parents more about the Sisters (Renee has been cutting our hair on-site for quite a few years now) and then telling the Sisters about her father's annual major Christmas decorating project. The next thing you know, the Sisters were invited to the Harycki's  Open House, and the rest is history.
"Mr. and Mrs. Harycki have an incredible array of Christmas decorations (and refreshments), including little houses, lights and displays with moving parts that include skaters, skiers and trains. It's such a pleasure to see a loving and healthy family interacting," said Local Leader Sr. Mary Carol McClenon.
In addition to the outing, Sisters in the Baltimore Community enjoyed a festive Christmas Party at Good Shepherd Services Baltimore. The theme of the staff party was Winter Wonderland and included a caricature artist, beautifully decorated cake and games with prizes. GSS dietary staff created a banquet of crab cakes and side dishes and Thelma Johnson made her famous fried chicken. Sr. Caroline DeAngelus showed up to the party in her new scooter.
Province Christmas in St. Louis
Sisters and Laity at the Province Center and Immaculate Heart Convent in St. Louis decked the halls with greenery, Mrs. Claus and a host of other Christmas refinements. Sr. Elizabeth Garciano, Local Leader of Maria Droste Contemplative Community, handcrafted an assortment of beautiful Christmas cards to send to the Community's benefactors and to sell in the Immaculate Heart Convent boutique. Sr. Mary Carolyn McQuaid crafted ornate table decorations for the Province Center dining room tables from greenery that she snipped from the conifers on the convent lawn. Sister Lioba dangled Christmas ornaments from the ceiling, and the kitchen staff, as always, baked fresh goodies to create a festive ambience in the dining room.
Province Christmas in Portland
Volunteers from the National Charity League in Portland, Oregon, served meals to Rose Haven guests at its annual Ladies Holiday Tea. The League donated and distributed gifts to nearly 100 women at the event. One of the Rose Haven guests performed songs on the piano while kitchen elves tended to tasks in the kitchen. In addition to gifts that National Charity League donated, local business Core Logo gave a purse filled with gifts to each woman who attended the Tea. Rose Haven also held a Christmas party for nearly 300 children. Donated gifts included toys, books and clothing and 10 bicycles that Franz Bakery contributed to the affair.
Province Christmas in Louisville
Maryhurst Board members giggled and carried on with glee before straightening up and performing for an audience at the Maryhurst holiday dinner in Louisville, Kentucky.
Celebrating Christmas with fun, fellowship and fundraisers brought a special glow to Good Shepherd across the Province. For information about Good Shepherd ministries and affiliated ministries, please visit https://sistersofthegoodshepherd.com/ministries-at-a-glance/