Nuncio Brown is the new papal ambassador to the Philippines. Pope Francis assigned United States Archbishop Charles J. Brown as his ambassador to the Philippines last September. The New York native had been the Vatican's diplomatic representative in Albania from March 2017 through September 2020. It was during his last year serving as Nuncio in Albania that he and Sister Olga Cristobal, RGS, met.
Nuncio Brown and Sister Olga meet
Sister Olga had been missioned in Tirana for three years under the Province of Germany and Albania. During her years of service (October 2014 until October 2017), she ministered to Filipino migrants and women who were being trafficked for labor. She conducted arts activities at a center for children with Down syndrome and nurtured babies who were isolated on a  hospital ward while awaiting adoption. She also volunteered for parish duties in Tirana.
Sister Olga and other Good Shepherd Sisters met Nuncio Brown when he visited them in Tirana and Korce, the two communities where Good Shepherd Sisters serve in Albania. He praised the Sisters for their tireless efforts in fighting human trafficking and bringing dignity to the Roma people who are poor, underserved and marginalized in Albania.
"Archbishop Brown has great concern for the poor and marginalized, the way Pope Francis does," Sr. Olga  said.
"What I experienced and observed in Albania about Nuncio Brown was his pastoral excellence. He visited all dioceses and many parishes and religious communities. He nurtured good relations with heads of other religions and fostered ecumenism," Sr. Olga said.
Good Shepherd Sisters welcome Nuncio Brown
Sister Olga was born and raised in the Philippine Islands. She believes Nuncio Brown will fit right in with the Filipino people and readily embrace the cultural lifestyle. He has a retreat house by the Good Shepherd convent in Tagaytay City.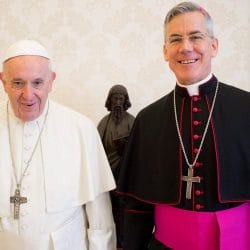 He journeyed to the convent the day after Christmas to visit the Sisters. They welcomed the Apostolic Nuncio, offered their hospitality, and gave him a tour of the retreat house.
Sister Olga is happy that Archbishop Brown is in her native country as a papal ambassador. She said, "Archbishop Brown is very simple and humble. He shows interest in everyone. He loves to sing, and he has a good voice. He even sang with me during my farewell "despedida" party with the Filipino migrants in Tirana when I left Albania in 2017."
Read about Sister Olga's experiences during her mission to Albania.