My journey as a lobbyist for the National Advocacy Center (NAC) of the Sisters of the Good Shepherd began when I interviewed for the job more than 12 years ago. I remember my joy when Sr. Gayle Crumbley called to say I was selected for the job. 
I had had extensive experience as a lobbyist for social justice issues at county and state levels but less experience lobbying at the federal level. My previous position had been with the Archdiocese of Washington as their Legislative Liaison Officer.
I was accustomed to the hustle and bustle of a large organization and was not ready for NAC where, aside from Sr. Gayle, I was the only full-time staff person. However, I learned there were other faith-based and secular organizations with whom I could partner. Soon I was going to meetings with them to strategize and make visits with legislators and their staff. 
Passion for justice is key to being a lobbyist for NAC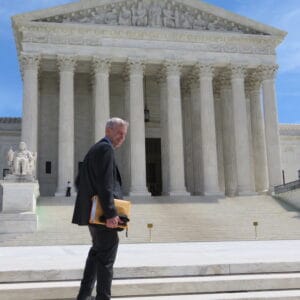 At NAC, we advocate at the national level on social justice issues, especially issues that affect women, children, and families. Much of our work is directed toward poverty issues, immigration, and ending human trafficking. We advocate through action alerts, conferences, meetings, legislative sign-ons, demonstrations, and prayer vigils. In addition, we have hosted conferences on human trafficking. This year we held a virtual conference with more than 500 registrants.  
Over the years, we have always advocated on issues of special concern to the clients served by the Good Shepherd agencies, specifically to people living in poverty and on the margins of society. Thanks to our Good Shepherd Volunteer, Patricia Kelly, we have advocated during the past year on additional issues relevant to the Good Shepherd agencies. For example, we advocated for benefits for foster children who, after a certain age, would lose the financial support they need to have as they move into the workforce.
During the last several years, we have received extensive coverage in the Catholic media, thanks to our Communications Consultant, Kathy Dempsey. This success is due to her writing ability and her contacts with people in the Catholic media.
Favorite memories of my time as a lobbyist for the National Advocacy Center
On a personal note, one of my favorite memories of my time with NAC is being arrested along with Sr. Gayle as we protested in the U. S. Capitol our country's unjust immigration policies. Our offense was praying in the Capitol building. 
Not a serious offense but sufficient to get arrested and call attention to the cruelties inflicted upon our immigrant sisters and brothers in search of refuge. 
My best memories are those working with my Associate Fran Eskin-Royer, who is now serving as the new Director of NAC. Fran has been a delight to work with. Almost from the beginning, our working relationship has not been a supervisor/employee relationship, but an equal relationship in a collaborative effort. 
Fran Eskin-Royer named new Director of NAC
I could not imagine a better partnership. I am delighted that Fran has been selected to lead the organization. She not only knows all the issues and many of the principal players, but she is also deeply immersed in the spirit of Saint Mary Euphrasia and the works of the Good Shepherd agencies. She has a deep commitment to being in solidarity with those who live in poverty and on the margins of society. 
If you are not a member of our legislative network, please reach out to Fran. She will add you to our listserv so you can have the opportunity to advocate directly with your legislators on issues that are important to you.
Consulting with the National Advocacy Center
I will continue with NAC on a consultant basis through September of this year. I will help recruit applicants for the Legislative Coordinator position and participate in the interviewing process. Until the new person is on board, I will work with Fran to continue our advocacy efforts.
I want to give special thanks to Sr. Brigid Lawlor for being the person she is. As founder of NAC and Vice-Chair of our Advisory Board, she has been extraordinarily helpful to us in achieving our mission. A whirlwind of energy, she is always a step ahead of us. 
And thanks to the U.S. Province Leaders for their unfailing support of our mission. For some odd reason, one of my early memories is chatting with Sr. Madeleine Munday about past episodes of The Twilight Zone.  I realized this was a person I could relate with!
Also, special thanks to Sisters Maureen McGowan and Francisca Aguillon for lending their province financial and moral support. At an Advisory Board meeting, Sr. Maureen once commented that the Province Leaders not only supported NAC's mission but that NAC's mission was also their mission.  
I want to thank all the members of our Advisory Board both past and present.  Meeting three of four times a year, they each gave of their time and talent to help us succeed.  My personal thanks to Jack Lawlor, Michael Guignard, and Rochelle Lepor for their dedicated volunteer work. 
Finally, I want to thank each and every one of you for your participation in our legislative network and for your prayers. Again, thanks to Contemplative Sister Sharon Rose Authorson for her daily prayers on our behalf. Prayers make a difference!