Asking Monique Tarabeh to talk about being and becoming a nun is anything but a dull experience. Every Sister has a different story of her journey toward becoming a nun. For Sister Monique the story is especially lively.
I interviewed Sr. Monique on her first working day at the Province Center in St. Louis. What struck me instantly about this young nun was her fluency in English and bubbly, outgoing personality. She exudes energy and optimism. It was easy to see why she had been singled out to serve as the congregation's Communications Coordinator for the next six years.
Sister Monique is spending three months at the Mid-North America Province Center preparing for her role in Rome. She is working with me as an intern and furthering her English studies at the University of Missouri St. Louis, where she continually astounds the professor with her proficiency and eagerness to learn.
Monique was born in Damascus, Syria, to a family of girls. She is the youngest of four daughters and was the second sibling to become a nun, or more specifically a Good Shepherd Sister. Her older sister Kinda is also a Good Shepherd Sister and is serving in a refugee camp in Homs, Syria. Sister Kinda helps victims and survivors of war trauma cope with their situation through counseling and program activities. She also refers people to therapists for ongoing treatment of psychological disorders associated with post traumatic stress disorder.
Going from gossip girl to nun
Monique entered the convent on October 17, 1997 at age 20 and made temporary vows in 2000. She made perpetual vows in 2005. Her story about becoming a nun has comical overtones.
"I never liked nuns because I had a bad experience with them in school when I was young, and I never talked to my sister Kinda about her experiences as a nun because her lifestyle didn't interest me. I liked running around with friends when I was younger. I liked dancing and staying out late at night. I lived at home with my mother and father and had an easy life.
"One day I was at work and gossiping on the phone for over an hour with a friend when the thought suddenly hit me that there's got to be more to life than this," she said.
Monique's epiphany set her on a pathway of discovery. She asked her sister what it was like to be a nun and asked her about the Good Shepherd mission. Kinda was annoyed by Monique's questions and ignored them because she didn't believe her little sister was serious and thought Monique was teasing her and wasting her time.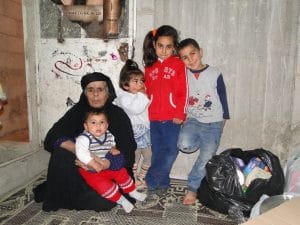 "Kinda wouldn't talk to me about being a nun, so I picked up the phone and called the convent. I asked a Sister there if I could volunteer to work with them on a mission. I ended up going on a 3-day experience working with poor girls at the shelter in Lebanon.
"Those three days turned into 10 days and ultimately entry into the convent. My boyfriend couldn't believe it. My family couldn't believe it. I had been open to the world doing whatever I wanted to do, but I knew God had called me. I entered religious life because I wanted to do something for others and help people in need. I have never had a regret about answering God's call," she said.
Road to Damascus
Monique laughs about having had a conversion experience in Damascus and says a horse is the only thing missing in her personal story of being and becoming a nun.
Sister Monique has a Master's degree in graphic design and will use her skills to collaborate with province communications coordinators to improve vocations for Sisters of the Good Shepherd and brand the congregation's image. She will also manage the congregation website and produce the congregation newsletter, which is produced in English, Spanish and French.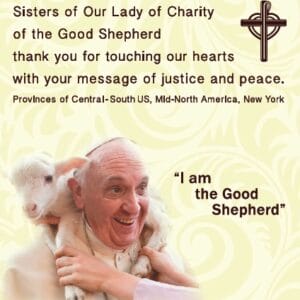 Sister Monique has already begun helping me develop a consistent look for the Province of Mid-North America by designing banners for our website and social media platforms facebook and twitter. She also worked with me to design an advertisement for the USA Today Special Edition commemorating Pope Francis' visit to the United States next month.
In addition to wanting to share her design skills with the province, Sr. Monique has asked me to help her become a better writer of English. To accomplish this goal, I am helping her gain hands-on experience in journalistic writing and photojournalism. Together we will build her language skills so that when she arrives in Rome she is prepared to produce the congregation newsletter and write social media micro blogs and website posts in English.
"Communications is a part of my character," Sr. Monique said. "Since childhood, if my family ever lost track of me they would eventually find me somewhere talking with people.
"I like any form of communication that lets me be in contact with others. I feel that working with another person or group is better than working alone because the experience is richer. People working together on a communications project can complete each other's ideas," she said.
During her three-month stay in St. Louis, Sr. Monique hopes to learn more about U.S. culture and ministries in the Province of Mid-North America. She said she is especially excited about having an international experience of living in a new community.

"To be in the United States is unbelievable! I didn't believe that I would ever visit the United States," she said. We don't have many Syrian people in America so the U.S. is very far from our minds and culture. We see the U.S. on television, and we have an idea about it, but to actually be in the United States is like a dream come true!"
When Sr. Monique isn't studying English, designing graphics or mastering journalism, you can find her cooking in the convent kitchen or riding a bicycle on the streets and park pathways near the Province Center. She also enjoys playing badminton and acoustic guitar. When I asked Monique what else she enjoys doing, she said, "I like to talk a lot. I'm chatty."
I would say that's a noteworthy quality for someone who will be contacting Sisters and Mission Partners in 73 countries in search of story.
You can read more news and feature stories about Sisters and Mission Partners in the Province of Mid-North America in our monthly newsletter Items of Interest.
Visit the congregation website to learn more about Sisters of Our Lady of Charity of the Good Shepherd and to read about our international Sisters and ministries.