We talk about Mission Effectiveness. We train in Mission Effectiveness. But it's in seeing Mission Effectiveness play out that everything about Good Shepherd crystalizes. Seeing Sisters and Mission Partners paint a door green on a crisp September morning caused me to take stock of how such a simple act can be so deeply meaningful.

On September 8 Vista Maria painted the entrance to Brennan Hall green, becoming the second ministry in the Province of Mid-North America to participate in the Green Door Project. Good Shepherd National Advocacy Center led the way in June, when Mission Partners and Sisters painted NAC's door.

Mission Effectiveness as an act of solidarity
The Green Door Project is an initiative that rallies Good Shepherd houses and ministries around the common task of painting entryways to match the Green Door of the Motherhouse in Angers, France. It is through the Green Door of the Motherhouse that young women entered religious life with Good Shepherd, and from which they departed for missions around the world. Painting doors green throughout the province is a gesture of solidarity and a nod to our Good Shepherd heritage.

While on the 2017 pilgrimage in May, Province Operations Director Monte Abbott devised the notion of having each ministry and Community paint their entryways green. He shared his idea with fellow pilgrims during a rooftop party one night, where the view and atmosphere of the Motherhouse lent itself to inspired dreaming.

Mike Skonieczny heard Monte's idea and instantly resonated with it. When he returned to Vista Maria from pilgrimage, Mike passed along the vision of the Green Door Project to his colleague Janet Jones. Janet listened and also got hooked on the idea. One idea sparked another and before long the two of them had mapped out a plan to involve Vista Maria's entire campus in a green door painting party. Mission Effectiveness was fully underway.

Popcorn with the pilgrims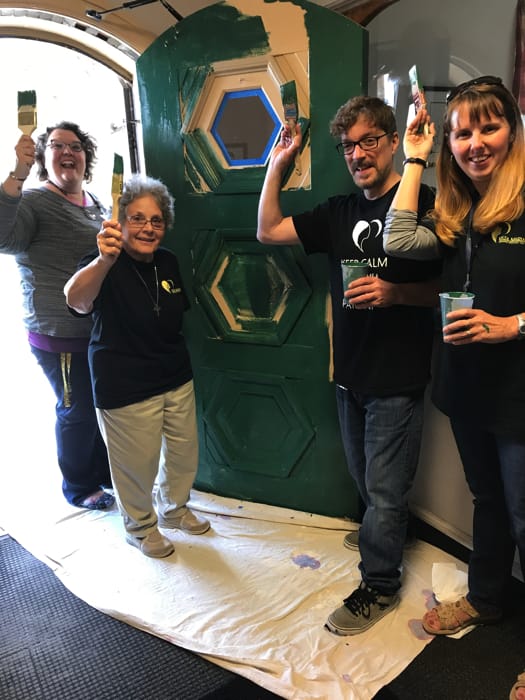 They called the event Popcorn with the Pilgrims and sent out invitations to all Mission Partners on campus. Nearly 40 people showed up to paint, including six Sisters who were visiting Vista Maria from Cincinnati and Louisville. Many of the participants were former pilgrims.

Janet and Mike wanted each participant to have a personal paint brush to keep as a souvenir. Janet bought the brushes and attached a note to each one of them with a thin green ribbon, hoping the note would serve as a daily reminder of our roots and the work that began with St. Mary Euphrasia.
Janet also added a quote from St. Mary Euphrasia, which read, "Let us rouse ourselves and go forward! As we are all Shepherds no one small corner of the earth should hold us back."

The famed pilgrim song "Find us Faithful" played in the background as each person approached the door, paint brush in hand. A photo display board documenting a pilgrimage to Angers held people's interest while they waited for their turn to paint. Popcorn, juice and animated conversation also kept people engaged while waiting.

As for me, I did what most of us did after the event. I adorned my office wall with the brush I had used to add a streak of green to the entrance door of Brennan Hall.
I like having the brush on my wall where I can see it throughout the day. It reminds me of that very fine event at Vista Maria, where conversation flowed around mission and feelings of camaraderie ran high.
It also reminds me of my own pilgrimage to Angers in 2014, when I became engrossed in Good Shepherd stories that make me feel proud and very blessed to be a part of the great and wonderful mission that we all share.