A visit to Mercado Chiriyacu in Quito opened my eyes to extreme poverty and unfulfilled lives. The experience set me on a path to new awareness and action. For example, after returning from Quito I realized that my conscience will never again allow me to buy a cup of boutique coffee. The money spent on a 16-ounce latte could feed a family of six in Chiriyacu for a week. Really. Try to imagine it.
Let me start from the beginning.
I traveled to Quito, Ecuador in late August as a Mission Partner (lay staff) delegate to the Intercontinental Assembly of the Americas. For a week I joined apostolic and contemplative Sisters of the Good Shepherd from North, Central And South America. Our purpose was to meet as delegates from communities in the congregation to reflect on the future of the congregation and help determine how Sisters and Mission Partners will risk together for mission.
To deepen our experience as delegates, we visited local ministries to see how Good Shepherd Sisters and Mission Partners are serving the poor and marginalized people of Quito, Ecuador.
Delegates were allowed to choose one ministry to visit from among five choices. I chose to experience the municipal outdoor marketplace Mercado Chiriyacu, where indigenous Ecuadoreans try to eke out a living wage each day by selling produce, meat and other marketable products. We had been briefed before visiting the Mercado that the market vendors are extremely poor and range in age from very small children to the elderly and infirm, all calling out for hours on end for shoppers to buy their wares.
One woman that I met while walking through the Mercado with one of our Sisters from Peru, Sr. Nancy Pereyra, RGS, told us that she has been sitting in the Mercado every day for 70 years selling her corn varieties and the corn flour that she grinds. Today she is 87 years old. The only life she has known since age 17 is the hard life and repetitive work inside the Mercado.
Inside the Mercado little children carry loads of tomatoes, pineapples and other fruits and vegetables that weigh as much as their small bodies weigh, with the hope that the shoppers they encounter will buy what they are selling. Little children sit all day shelling beans from large sacks. Babes suckle at their mother's breasts, and teenage boys carry enormous sacks of potatoes, onions, carrots and other root vegetables on their backs, shuffling from one vendor to the other to deposit produce that the vendors sell. In exchange for their back-backing labor the boys receive 50 cents.
Quito Tradition
Mercado Chiriyacu is a Quito tradition. It is a world unto its own. The Mercado smells like dead fish and gutted animals, and it smells like food rotting in the gutter. The Mercado smells like freshly picked herbs, fruits and vegetables and bouquets of aromatic flowers. The odors and aromas depend on where you are inside the Mercado. Many levels and pockets of space make up the marketplace, each offering its own unique, and sometimes unsettling, experience.
The Mercado is loud. It is filled with the bustle and negotiations of buyers and the bellow and pleas of sellers. Many of the children stay close to their mother in the Mercado, performing the same labor in the family vending space as the older youth and adults. Other children are alone in the Mercado, with no one to protect them, share a familiar voice or ease their heavy load.
There is tremendous competition inside the marketplace, as there appears to be as many vendors as buyers. I wondered how there could possibly be enough purchasing taking place to make it worthwhile for a vendor to spend all day in the market. The prices are shocking, and I felt like I was cheating children, youth and adults by buying produce at their purchase price.
For example, I bought 5 pounds of carrots from a 7-year-old street girl, a bag of 10 pears and 20 mandarins from a young girl who sells in a vending stall with her mother, a cluster of plantains from a boy, and a full sack of red, ripe tomatoes from a preschool-aged child whose produce weighed as much as he does. The total cost of my groceries was a mere $2.50.
When I wanted to give children and vendors more money than the purchase price (a tip, so to speak), they declined to accept it. It was explained to me that there is dignity among the Mercado vendors and that prices are what they are. Some buyers come to the Mercado and negotiate with vendors to lower their already shockingly low prices. I don't have the heart for that.
Good Shepherd School
Mercado Chiriyacu has a long history. It is the marketplace where indigenous Ecuadoreans sell fruits and vegetables, grains, animal entrails, flowers and other commodities, including live animals. It is a marketplace where bananas are grilled and meat from a spit is served. Mercado Chiriyacu is a tradition in Quito and has been in operation for many generations.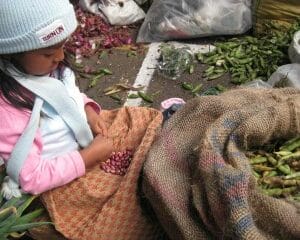 Twenty seven years ago a Good Shepherd Sister — Sr. Maria Augusta Arellano — saw the Mercado through the eyes of the Good Shepherd Himself and was filled with compassion and a daring to make a difference for the children who labor inside the marketplace. She realized that the children in the Mercado were not given opportunities to play with other children. She was concerned about their welfare and said, "I cannot sleep if I don't do something about this."
So, Sr. Maria Augusta did something about it. She decided to come to the Mercado to carve out a space where children could get away from the drudgery of work and play together for one hour each day. In this hour the children laughed, exercised and learned the Our Father and Hail Mary. Gradually Sister built trust among the children, their mothers and families.
Over the months and years she increased the time she spent in the Mercado to give children more hours to play. One day a man saw Sr. Maria Augusta and the children sitting under a tree reading and praying. He asked her if she needed some materials to help improve the children's learning. She didn't hesitate to ask for what she needed. The next day the man returned with a truck load of books, paper, pencils and art supplies. A school was about to be born.
Government authorities also began to notice the work of Sr. Maria Augusta. Eventually they offered her a small building inside the Mercado where she could provide more play opportunities for the children, and where she could build the school she dreamed of.
One day Sr. Maria Augusta realized that the work inside the mercado had become too much for her to handle alone. That's when she went in search of volunteers who lived in Quito. She and the volunteers started a program for girls ages 10-12. When the demand for services continued to grow, Sr. Maria Augusta and her team of volunteers started the school.
Before long, however, more and more of the adolescent girls were coming to the school with younger siblings carried on their shoulders. The girls were not able to focus on their studies. So, once again Sr. Maria Augusta started a new program; she and the volunteers created a kindergarten for the younger children.
Another Good Shepherd Sister, Sr. Sonya, went to Canada and met with young adults who were wanting to do volunteer service. Canadians became the first international volunteers to serve at the school. Today volunteers come from Canada, the United States, Italy, Germany, England and the Netherlands to volunteer at the Mercado school. Last year the school welcomed more than 100 international volunteers. Volunteers serve for three months, six months or one year.
There came a time when the adolescent girls in the school had to graduate and move on. Sr. Maria Augusta wanted to provide the girls with opportunities that would allow them to earn a living without having to return to the Mercado. This is when she began to teach the girls how to make clothes, bags and other items through a program called CENIT. To this day the hand-sewn manufacturing program has remained a Good Shepherd ministry. CENIT iMercados housed in a secure compound just a few blocks from the Mercado.
Risk for Mission
Once the Sisters and volunteers had the Mercado school and CENIT programs successfully underway, they began to focus on the family. Today, Monica, a Good Shepherd Mission Partner and social worker, goes with families to help them find schools for their children when they graduate from the Mercado school. She also goes with them when they need to visit a doctor of health clinic, or when they need other support services. Sometimes Monica helps out in the school when needed.
The school and CENIT are non-profit organizations and receive funding from the Ecuadorean government. Because the Good Shepherd Sisters are responsible for the school and the government has trust in them, the authorities renew governmental funding for the school each year. In addition, many of the volunteers who work in the school return to their own countries and set up non-profits so they can raise funds to help support the Mercado school.
Children and youth come to the Mercado school in two shifts: form 9 a.m. to 12 p.m. and from 2-4 p.m. During the two-hour break the youth go back to the Mercado to sell. Also, many of the children in the first shift don't return for a second shift at the school, and many of the children who attend the afternoon shift don't attend morning classes. Instead, they stay in the Mercado and sell.
Currently, Good Shepherd Sisters in Quito are trying to introduce a program that fills the two hour break period with educational opportunities and sports for children and adolescents. They are also working on strategies to encourage the children to attend both school sessions.
This is a priority for Good Shepherd Sisters in Quito, as the Mercado has a lot of drug activity and violence. It is a dangerous place for children, as evidenced by two murders in the Mercado last year. The more time children spend inside the school, the fewer dangers there are to them while they are inside the marketplace.
The school is rooted in a radical commitment to justice and the outpouring of blessings that come to us when we say "yes" to God. From the moment Sr. Maria Augusta heard God's Call 27 years ago, she took the risk for mission.