Grace Dietrich is from Conklin, Michigan, where she grew up on an apple farm that her father and uncles own. She comes from a large close-knit Catholic family and is the middle child among six. Grace graduated with a Sociology degree from DePaul University, the largest Catholic university in the nation and largest private institution in Chicago. When speaking with Grace about her year with Good Shepherd Volunteers at the LA Shelter, she spoke freely about her passion, her upbringing and her faith. This is Grace's story, in her words.
Service is life-giving
"I consider myself to be strong in the Catholic faith. Service has always been important to me, even as a child. I knew I wanted to work in the social services field while a student at DePaul. I spent most of my free time doing community service and studying spirituality. My coursework in Sociology gave me a greater understanding of poverty, gender, class and race, subjects that fascinate me.
I was very nearly always engaged in campus service work while studying at the university. At first I just did service, and then I got involved in leadership and started organizing projects and programs. I oversaw all of the coordinators of programs and facilitated reflections for leaders of the programs. Programs were throughout all of Chicago. This level of activity reflects how important service was to me, and still is.
Community service is life-giving for me. The seed for service was planted first in my home and then at DePaul. I would trace my own commitment to service back to my parents, who are strong Catholics and give of themselves to those who are less fortunate. Having solidarity with the poor is important to me. It's why I live simply.
In addition to my parents, DePaul University has a culture of service. At DePaul I learned more of the social justice elements to service and came to understand how important this element is when it comes to helping those in need.
I lived in intentional community at the Vincennes Louise House at DePaul with nine other tenants. We all had to commit to service hours. Also, through weekly community nights the piece of community service often arose. My experience living in community at DePaul was incredible.
I love to travel. It's probably my greatest passion. I feel most alive when I'm traveling. I like to explore new cultures and immerse myself in nature and diversity experiences.
I served in Korea for two years, teaching the English language to elementary school children. At the end of my second year in Korea I realized that I wanted to be more greatly challenged, and needed to be with my family. I missed them. My two older siblings were having babies and I wanted to be closer to them. So I went home for a while and received my family fix in a comfortable and loving way.
Spiritual direction
Growing up on a farm taught me the importance of work and gave me a sense of being free in nature. When I returned home from Korea I shifted my work and began marketing the family farm and promoting it through social media. At the same time I taught low-income, high-risk children near Conklin, Michigan.
At the time I was kind of in a rut. I wasn't sure where God was leading me. While home I began seeking spiritual direction and had a powerful guide for about a year. She helped me through my discernment process of what to do next with my life. Through the discernment, I came to realize that I wanted to do post-graduate service rather than stay on the farm working or going back to school for my master's degree. With the help of my spiritual guide I found the spark again that had always brought joy to my heart: service to others.
I began looking around for a post-graduate service project. That's when I found Sisters of the Good Shepherd. There was a link to the GSV website from the Catholic Volunteer Network website. As soon as I opened the GSV website I knew placement with Good Shepherd was right for me.
Embrace the world
What resonated so clearly for me were the words on the GSV website banner, "Embrace the world." The word embrace captures how I feel about taking on situations. That word encompasses how I want to take on the world. I want to embrace cultures, embrace other people, embrace service. Everything that Good Shepherd stands for is what I feel so called towards.
I feel blessed to have been placed at the domestic violence shelter. I've been really happy here. I'm embracing this experience fully. That's all I can do and that's all I want to do, is to embrace each and every day with these moms and children.
It didn't start out this way. I had originally applied for international service in Thailand and was devastated when I didn't get that placement. I really wanted another international experience, and I was disappointed and confused when I didn't get it through GSV. I struggled with whether to stay with Good Shepherd Volunteers when I didn't get placed in Thailand.
I went back to my spiritual guide to have a conversation about the turmoil I was feeling over my feelings of disappointment. My guide asked me why I felt I was called to Good Shepherd so much. She invited me to really think about that. Then she said to me, "What matters is what you are doing through service. It's not about where, but what you are doing through service."
I recalled the tenets of Good Shepherd that had resonated so deeply with me when I visited the GSV website initially, and in that moment I understood how I was allowing myself to get in the way of my own deepening of spirit.
I work with the toddlers in the shelter. It's unlike any work I have ever done. I appreciate the work for the challenge it presents for personal growth. I'm learning so much about how to speak with kids who have undergone trauma. I have to be constantly aware of using inclusive language and being intuitive to the children and the trauma they've experienced. One of the platitudes of
Good Shepherd Volunteers is 'Just Love.' This is it for me. It's what brings everything I'm doing into focus. When communication gets hard between me and the kids or teachers or the other volunteers I live with, I have to remember that I'll get through it with just love.
Inspired by others
I had a beautiful childhood filled with love and play and structure and freedom to be. I can pull from my own memories of childhood to show the children in the shelter that I love them. I can show them how to be children.
Here at the shelter I am able to hug the children and tell them that I love them. I couldn't do that in other settings. But here with Good Shepherd I can do that. It makes me feel that much more grateful to be here because it's such a strong part of the mission here and such a strong part of who I am as a loving person.
My challenges as a Good Shepherd Volunteer are also my aha moments. The challenge is often how to reach these children who have been so traumatized by their early life experiences. The epiphany is that I have my own childhood to draw from to find loving ways of reaching these small children. Each day I ask myself, 'How am I using my gifts to make the world a better place?'
I find inspiration, motivation and training from other teachers. I observe those who are trained in trauma-informed childcare and learn from them. I especially like living in  close proximity to the nuns. I like the relationship the GSVs have with the Sisters. They are so kind and give so much to us.
I will tap from the year of service I have had with GSV to find the career niche that I am seeking. I have to keep praying, discerning and asking God what is it He wants of me. I am taking all of the elements in my life this year to really try to embrace this question fully so I can get closer to knowing what God is asking of me. Those elements include living simply, living in community and deepening my spirituality to respond to God's call for my life.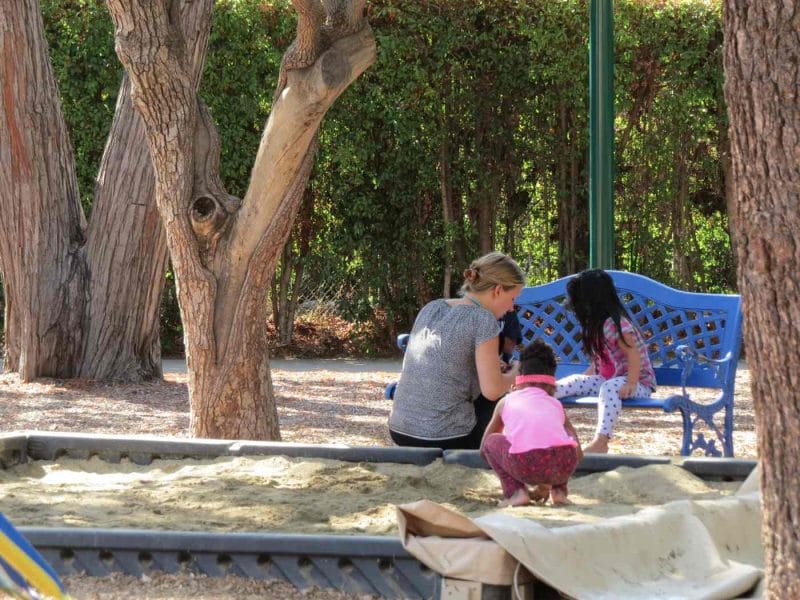 I have learned to pray well as a result of my strong Catholic faith and upbringing in the Church. For me, praying originally had a socialized form to it. My spiritual director helped me understand that prayer is more about having a conversation with God. My favorite form of prayer is Taize. I find it very calm and peaceful. Taize prayer lights the fire in my heart.
Guided by prayer
When I'm on my own, I do more meditational prayer to settle my mind so that I'm open to God or being in silence with God. For me this type of prayer is a more holistic experience. I also still pray the rosary. I wear the rosary bracelet every day. I don't feel complete without the rosary.
Spirituality is very important to me. A prayer life needs to be a part of me in order for me to feel alive. I'm hoping my year of discernment while at the LA Shelter will lead me to my path to find the niche with social service that I'm meant to follow. My year at the shelter is helping me reach my goal of getting one step closer to knowing what I am meant to do with my life."
When Grace isn't performing service or devoting hours to deepening her spirituality, she can be found practicing yoga or communing with nature. She especially likes to hike and view the world from forests and mountaintops. She also likes to read inspirational books, autobiographies and some fiction. Actually, she says, "I'm diverse in my reading and enjoy everything from reading Harry Potter to reading the life of the Dalai Lama." Grace completes her year of service with Good Shepherd Volunteers next month. She lives in community with two other GSVs at the domestic violence shelter in Los Angeles. Good Shepherd Volunteers is a joint ministry of Sisters of the Good Shepherd Province of Mid-North America and New York Province.