The Lord's call is not an intrusion of God in our freedom; it is not a "cage" or a burden to be borne. On the contrary, it is the loving initiative whereby God encounters us and invites us to be part of a great undertaking. He opens before our eyes the horizon of a greater sea and an abundant catch. ~ Pope Francis for the World Day of Vocations.
May 3rd marked the 57th annual World Day of Prayer for Vocations. It was also Good Shepherd Sunday, when Good Shepherd Sisters in the Province of Mid-North America renew vows. To recognize the significance of both days, Items of Interest tells the vocation story of PMNA Sister Marta Ceballos, RGS.
Call to religious life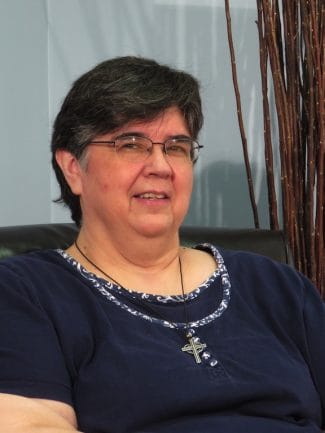 An awareness of a call to religious life began for Marta Elena Ceballos at age 10 in Chicago where she was raised. Her calling was so strong that as a child at play she would drape a towel over her head to serve as a veil and pretend to be a school teacher. Her siblings and the neighborhood kids were her students.
Nearly ten years later, at just under age 20, Marta made her play life real. In 1972 she entered the Good Shepherd convent in Los Angeles, California. She was not surprised by her calling. She said, "It just felt right."
Before entering, Marta had looked at different congregations and realized that she didn't want to teach after all. She also didn't want to be a nurse or a missionary or a contemplative nun. A priest helped her to discern which congregation to inquire about. By chance she had seen an advertisement for Sisters of the Good Shepherd in a Catholic magazine and was attracted by the picture in the ad of a Sister consoling a young girl.
Easy discernment process
Marta's discernment process was easy. She said she was attracted to the ministry of Good Shepherd. As a sophomore she contacted Sisters of the Good Shepherd by mail. She and the Vocations Director corresponded for over a year before Sr. Marta finally went to the convent in Chicago and met the Sisters personally to get a close up view of the Good Shepherd ministry.
A priest helped her with the discernment, but, basically, Sr. Marta said she moved ahead on her own. She said she kept thinking that she would try it and if it didn't work out she would move on to other choices for her life.
Her dad gave his blessing for her to enter right away, but her mom was not so happy. "She did not think I would survive without her, and she relied on me for help in many ways," Sr. Marta said.
Her parents, grandmother and a few of her siblings went to visit the convent in Chicago. Sister Lourdes Langenfeld was the community leader and gave them a tour.
"The community of Sisters was very welcoming. My grandmother pointed at a statue of the Child Jesus and Sr. Lourdes immediately gave the statue to my grandmother. Talk about a welcoming spirit! That gesture of generosity and welcome sold me completely on Good Shepherd," Sr. Marta said.
Sister Marta was the oldest child and had close relationships with her siblings. Her two youngest brothers were still in grammar school and did not really understand what was happening.
All they knew was that I would go away. My two sisters were unsure about my leaving," she said.
Attentive to what God is calling us to reveal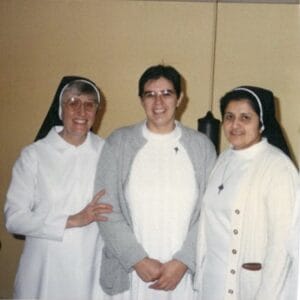 After entering Good Shepherd in Los Angeles in January 1972, the novitiate was moved to St. Louis five months later, in June 1972. Her profession of vows was in September 1974. She made her commitment of final vows on September 14, 1980. Sister Marta's first mission was to Marygrove, St. Louis, Missouri. She subsequently served in Phoenix, Las Vegas, Los Angeles, San Franciso, and in Rome twice for a total of nearly 14 years. She said her vowed life is a specific way of being faithful to God in her commitment to follow Jesus and to live His life in the here and now.
"Today we are challenged to be attentive to what God is calling us to reveal," said Sr. Marta.
According to Sister Marta, "It is important that we grow in our relationship with our Mission Partners in order to understand what God is saying to us. This is something new. It is something challenging. It is something that we need to bring to birth – with everyone participating and doing their part!"
The vow of zeal, unique to Good Shepherd Sisters, is special to Sr. Marta. She said, "In the beginning the vow did not mean much to me. Now it means commitment to serving the rejected and outcast.
"It means seeing the other as my equal and worth my effort to serve them to be the best that they can be."
Sister Marta said she aspires to live the way Saint Mary Euphrasia lived.
"Mary Euphrasia said she didn't have many talents or gifts, but she did love those she was called to serve."
Read more vocation stories of Good Shepherd Sisters in the Province newsletter Items of Interest.