Magdalen Bui, RGS, is the first Good Shepherd Sister from Vietnam to come to St. Louis as an international student. Sr. Magdalen is living with the St. Louis Community while learning to speak and understand English better. She is also in St. Louis for an international experience as part of her ongoing formation. She arrived on July 19 and will stay for one year.
Sr. Magdalen said she is happy to be studying and living in St. Louis, where she can experience U.S. culture. She has found the hospitality inviting, both on the streets and in the convent.

"When I walk to school each day I see people on the streets and they smile and are friendly to me. Some people wave to me from the car. It is easy to make friends here. I feel happy and don't feel like a stranger in this country because the Sisters make me feel welcome and at home," she said.
Sr. Magdalen has had a number of opportunities to experience American culture since her arrival as an international student. She has picked fruit on Eckert's Farm, attended the large international Festival of Nations, visited a butterfly house and gone to the top of the famed St. Louis Arch. But her most profound experience so far has been with the elderly Sisters at Immaculate Heart Convent.
Young international student inspired by older Sisters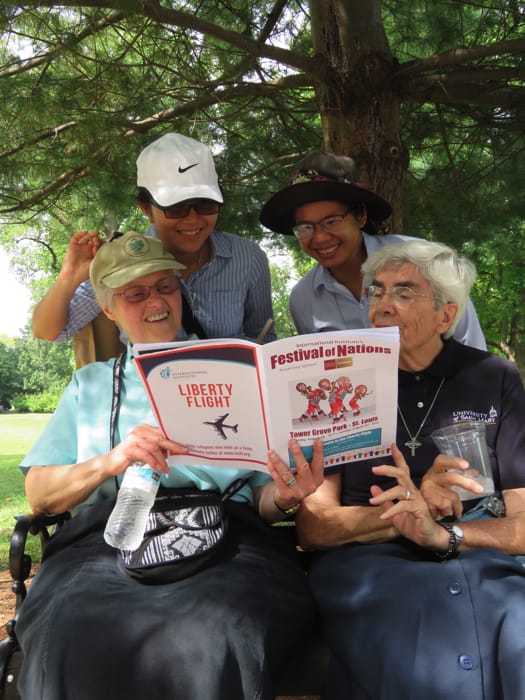 "In Vietnam we are a young community and do not have many older Sisters. When I go to chapel at Immaculate Heart and see the older Sisters, it encourages me in my vocation. I can see the zeal for ministry that they have had for a very long time," Sr. Magdalen said.
"I can see too that as they became older they continued to be in touch with God. It is a good model for a new vocation to see. Through these older Sisters I can see the future. I can see that they accept their sickness and old age and they live happily in this way."
Sr. Magdalen has noticed, with the arrival of fall, that she is about to experience yet again something new: cold weather.
"In Vietnam we have two seasons: summer and rainy. I have never experienced cold weather and don't know what to expect," she said.
No worries. Sr. Magdalen is fearless and clearly adaptable. As a novice she traveled to Cambodia and Thailand. While enroute to St. Louis, she missed a connecting flight from Hong Kong and ended up taking a long and circuitous route to the U.S.
Angels all around her
She wasn't afraid in either circumstance because she said she felt Good Shepherd hospitality and the presence of angels all around her. She trusts these same angels will help guide her toward her goal of improving English skills to better enjoy conversations while in the U.S. and to help the ministries in her Province when she returns to Ho Chi Minh City (formerly Saigon). She will use her English skills to translate documents from English to Vietnamese and to write grants to fund their ministries.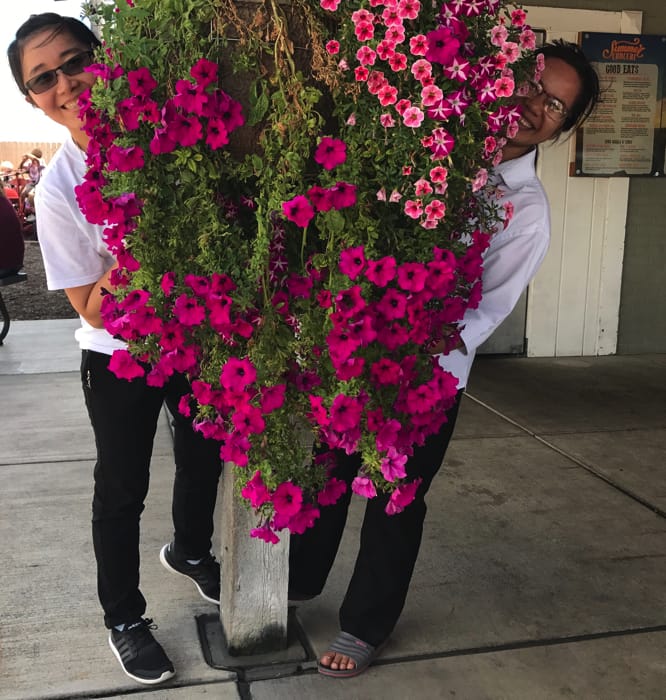 Sr. Magdalen's biological sister Myriam Therese Bui is a Good Shepherd Apostolic Sister who works with trafficked girls and women. Sr. Magdalen said she felt called to Good Shepherd because of the order's charism of working with women prostitutes, troubled girls and women who are being trafficked.
Sr. Virginia Gordon mentors Sr. Magdalen, provides her with additional tutoring in English and helps her with homework assignments.
Sr. Virginia said, "It is very exciting to have Sr. Magdalen with us. She is a rapid learner and our first Vietnamese student. We want her to have the best experience possible while she is here."