Let us lift every voice for justice was the rallying cry at Ecumenical Advocacy Days for Global Peace with Justice (EAD). The annual gathering in Washington, DC, took place from April 15-19. The event theme centered around racism, class and power.
Larry Couch, Director of Good Shepherd National Advocacy Center (NAC), plays a vital role each year in EAD. This year he helped shape the domestic workshops and, as in years past, trained participants for lobbying effectively on Capitol Hill.
"As coordinator of the EAD domestic workshops, I was glad that all 12 workshops went well.  The workshops included a variety of issues, including racism, voter suppression, big money influence on elections, and immigration and refugee policies," Larry said.
On the final day of the gathering EAD participants met with their senators and representatives to ask them to support the Voting Rights Advancement Act of 2015 as a substantial legislative step to restoring the Voting Rights Act of 1965.
They also asked their congressional leaders to defeat the Trans-Pacific Partnership (TPP) trade agreement. EAD participants believe TPP deepens inequality and prioritizes corporate interests over both God's creation and people, especially vulnerable communities in the U.S. and abroad.
"In a national election year when we are seeing attempts at voter suppression and fraud, and where we are hearing much debate about the TPP from presidential candidates, it is crucial for people of faith to witness and speak out about these two justice issues," said Douglas Grace, Director of Ecumenical Advocacy Days.
For the first time other members of Good Shepherd joined Larry at Ecumenical Advocacy Days. Sr. Mary Catherine Massei has become increasingly engaged in the Black Lives Matter movement in St. Louis. She attended EAD to gain greater insight into political issues that contribute to pervasive racism and how people of faith throughout the U.S. are dealing with those concerns.
Let us lift every voice for justice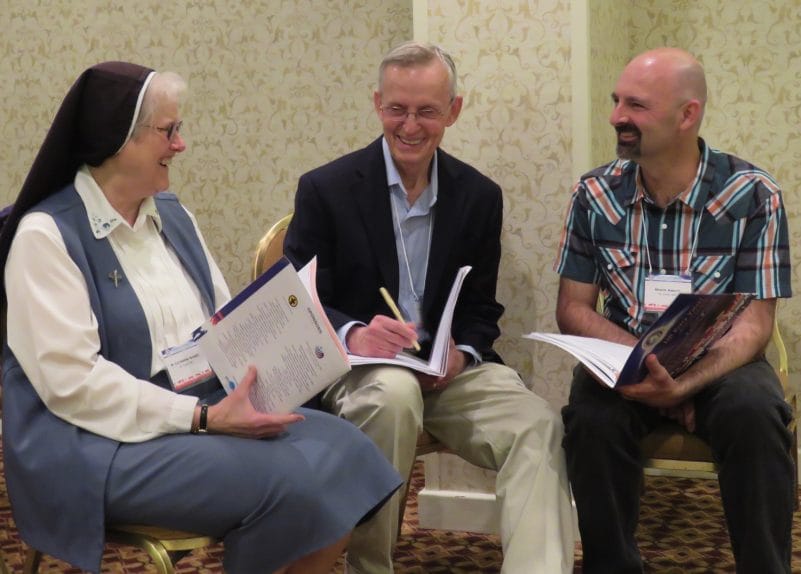 Sr. Mary Catherine said, "The energy at EAD and commitment of the presenters and participants gave me a deeper desire to do all I can to support those who are tireless in their efforts to rally for justice for all of our citizens, especially those who are systematically deprived of access to health services, education and employment."
Monte Abbott is a new member of the NAC Advisory Board. He attended the gathering to gain a better perspective of Larry's role as director of the National Advocacy Center and to understand more clearly how NAC interacts with congressional leaders on Capitol Hill and collaborates with other organizations to strengthen lobbying efforts that support the Good Shepherd charism.
Monte left the gathering feeling enlightened and motivated. He especially appreciated being a part of the lobbying efforts with Missouri senators and representatives.
"My impression is that our national representatives don't often hear from private citizens or faith groups. The loudest voices on Capitol Hill are moneyed interests like corporate groups and wealthy campaign contributors," Monte said.
"The staffers I met with were open and interested in hearing the perspectives I brought. As an individual, I know I need to do better at calling and writing my representatives, and I plan to do so in the future," he said.
Our stories can motivate others to act
Jeanette McDermott attended EAD in her role as communications coordinator for the province. She documented the gathering for Items of Interest and the Province website and social media platforms.
"It's important for me to experience our ministries in action first hand so I can tell our stories effectively. Good Shepherd stories bring to life our charism and show people how zeal animates a life. By telling the stories of our richly fulfilling ministries we help motivate others to lift their own voices for peace and justice. We inspire them to take action to make the world better. That's powerful," Jeanette said.
Motivating others to act is what Larry has set his sights on for next year's gathering.
"I don't know if I will be successful, but I am pressing that next year's theme be on the subject of human trafficking. This issue speaks to the heart of every Good Shepherd. Let us lift every voice for justice!" Larry said.