Everyone has gotten in on the act of recycling at Vista Maria. For a few years now they have been recycling electronic waste and no less than eight to ten tons of cardboard and paper each year.
But recycling plastics is something new. For the first time, Vista Maria is now recycling seven types of plastics at 24 stations in buildings throughout campus. The Green Group is making it happen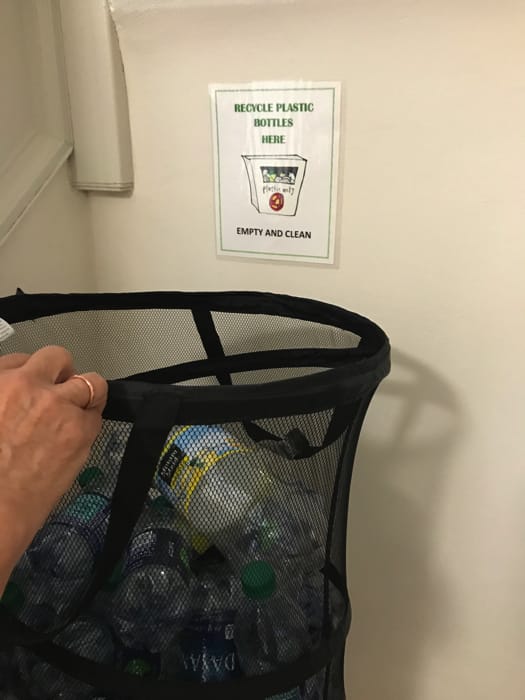 Green Group representatives monitor the recycle bins in their work areas and transfer the plastics when the bins get full to the large outdoor dumpster on campus. City waste management trucks empty the dumpster monthly.
Sr. Janice Rushman started the recycling initiative. As a member of the Province's Eco-Zeal for Mission core group, she had been engaged in numerous discussions for the past couple of years about caring for creation.
Increasingly, however, she grew restless with discussions that didn't lead to action. Stagnation gnawed at her. She wanted movement. She needed for her engagement on the Eco-Zeal team to have purpose and relevance that resulted in personal commitment and responsible action.
As she thought long and hard about ways to shape a program that could benefit Earth and Vista Maria, a vision began to unfold.
Vista Maria was already recycling 8-10 tons of cardboard and paper every year, and it had a well-oiled e-waste program underway. Could Vista Maria step up its game to be better stewards of the Earth? She thought so, but there was just one sure way to find out: invite people to a consultation.
Sr. Janice held a meeting of the minds on February 1 and 2 of this year, with 16 Mission Partners who had answered "yes" to her call for consultation. Using Appreciative Inquiry — a method that seeks to generate new ideas and models for how to organize for self-determined change — Sr. Janice set out to discover what people were doing to benefit the environment, and what more they could do.
Ideas flowed from the participants, who now call themselves the Green Group. The consensus among The Green Group was that they could realistically oversee efforts to recycle plastic bottles and containers.
During Vista Maria's Heritage Week in May, The Green Group set up 24 bins in residence halls, meeting rooms and in the cafeteria and officially launched the plastics recycling program.
It was vital to Sr. Janice that The Green Group manage and sustain the new program, and that the program not be a burdensome add- on task for the maintenance staff.
Recycling success
"I think it's a success. Many people are recycling at home and are happy to have a place at work where they can recycle their plastic. Comments about the recycling program are positive, and people are starting to make transitions toward being more sustainable," Sr. Janice said.
Since the new initiative launched, Vista Maria has begun building a mindfulness practice around sustainability. Departments are starting to use less styrofoam and people are picking up litter, conserving water and promoting care of earth in the Vista Maria newsletter.
Vista Maria's Donna Maria Hall is following the lead of Sr. Janice and The Green Group and has joined the initiative to recycle plastic bottles. The aim of the Green Squad is to do its part in helping to make Vista Maria a greener campus.
With interest in sustainability growing, The Green Group hopes to expand its recycling efforts in the future to include batteries and metals, including the disposable aluminum trays that residents eat from in the dining facility. The Green Group is also investigating other environmental issues and planning exciting and motivational activities for Earth Week 2018. In addition, The Green Group is developing a logo to promote Vista Maria as a green campus.