Sister Christine Truong, Executive Director of Good Shepherd Services, shared with me a great concern facing the community of Asians she serves in Atlanta. The serious problem weighs heavy on her heart, as local media don't report on the crimes and police don't respond for reasons upon which she can only speculate. The sensitive topic is difficult for Sr. Christine to voice for fear of being criticized and labeled a racist. And yet she said she needs to express the truth so that she may find support, increased prayers for her ministry, and peace of mind.
Soon after the Coronavirus spread around the world in early 2020, Sister Christine's work at Good Shepherd Services (GSS) Atlanta began to shift. Her mission of outreach to the Asian community took on added dimensions as children were kept from schools and day care and husbands were left without employment.
Applications for state and federal aid increased, domestic violence rose, and more and more GSS clients edged precipitously close to financial collapse. And then came July 4th and protests from Black Lives Matter (BLM).
Protesters target Asians
Some protesters who took to the streets following the death of George Floyd burned and looted Vietnamese shops and businesses. They scrawled racist messages on Asian homes and businesses and chanted hate messages on residential streets where Asians live and in the commercial district where they work. A widow and her three children were tormented nightly by protesters for weeks on end, according to Sr. Christine. They banged on her doors and windows, screaming obscenities and threats. They wrote crude messages on doors that the woman kept removing. Other Asian women were attacked and assaulted.
Sister Christine has arranged mental health counseling for some of the traumatized victims. She herself is feeling vulnerable and increasingly challenged by the incidents.
"Nightly shootings took place in the neighborhood where we are located. Asians were being targeted, and police were not responding to our calls for help.
Racially motivated verbal attacks and physical assaults  grew less frequent shortly after the 4th of July, and then began again from mid-to-late July. Things are quieting down again, but we don't know when the violence might start all over," Sr. Christine said.
Oppressed become oppressors
"None of us understands how people who want justice for themselves can be the ones who are hurting others. People come to GSS seeking safety that we cannot provide," said Sr. Christine.
"Good Shepherd Services is supposed to be a voice for the voiceless, but now we are staying silent out of fear. We can wear masks and social distance to protect ourselves against the coronavirus, but we don't know how to protect ourselves against the protesters," Sr. Christine said.
The attacks on Asians in Atlanta have not made local or national news, according to Sr. Christine. As a result, the larger community doesn't realize the violence exists.
Problem hidden from view
To date, Sr. Christine said 46 Asian clients of GSS have left Atlanta out of fear of being harmed or killed by  protesters. One client moved to the mountains of North Carolina to get as far away from people as possible. Many others who are staying are without jobs, without businesses they worked for decades to build successfully. Burned. Looted. Vandalized. Everything destroyed.
"It feels like nobody is speaking out against these crimes. It is a hidden problem," said Sr. Christine. She said the police have done nothing to reduce the incidents of violence against the Asians, and the Asians are terrified to file complaints, fearing that protesters will retaliate and further threaten their lives or that the police will turn against them as immigrants.
"The shouting, screaming, shooting, burning, and looting were terrifying. It felt like I was living through the Communist takeover of Vietnam all over again," said Sr. Christine.
"Communism started in Vietnam with unlawful protests and demolishing monuments and statues. That is what is happening now in the United States. It is horrible, just horrible, to experience this," she said.
Most of the Asians being targeted are the most vulnerable of the Asian population that GSS serves. They are poor, uneducated, and new to the United States. They cannot speak English well enough to fight back and don't understand the system to seek intervention.
Sobs of release
"When Asian people see me in the community they come to me and cry and cry because they are longing to see a non-hostile face," she said.
"All lives are sacred. We are all God's children. As long as we keep hating, this virus will spread. But it won't be the coronavirus. It is worse than that. It will be a virus of hate and violence that we won't be able to stop. We have got to start loving one another," Sr. Christine said.
Sister Christine constantly checks herself and reflects on her emotions so she can focus clearly on the clients at Good Shepherd Services. "I rarely get angry," she said.
But during a recent Zoom call with Sisters in the Province, she crumbled. She said she had been burying her fear, hurt, confusion and anger over protesters, and in one moment during that call it all flooded over her.
"I have seen too much, heard too much, felt too much hatred against Asians without having an outlet to express my feelings about it. That Zoom call with my Sisters was safe enough for me to reveal my true feelings," she said.
Today 99 percent of the people that Good Shepherd Services assists are having problems. The need far exceeds the capacity of GSS to currently serve the Asian community. We cannot stand up to protesters without the real threat of losing everything through retaliation. The Asian community we serve in Atlanta has turned upside down," Sr. Christine said.
New GSS Atlanta program is light in the darkness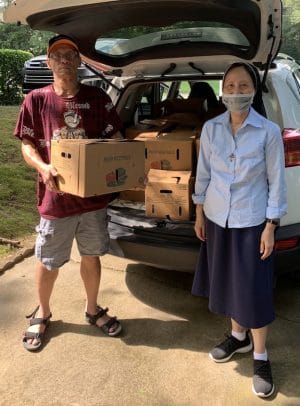 In this dark picture of despair, Sr. Christine sees a glimmer of hope for the future. Sisters from throughout the province have reached out to her since her cathartic release, offering comfort, moral support and prayers.
In addition to their comforting displays of unity, one Asian business woman in another part of the city who has been unaffected by the chaos stepped forward to help GSS. And then another came forward, and recently a third.
Through their kindness a new project has emerged. The project in Vietnamese is called Lá lành đùm lá rách" (Good leaves protect torn leaves). It provides food and clothing to the most vulnerable Asian families affected by the disorder and financial challenges wrought by protesters and COVID. Asians helping Asians is the program's core. Two of the businesses involved are Buddhist.
"We are different religions and speak different Asian languages, but that is not important. Kindness is what matters," Sr. Christine said.
The project began in early July and is expanding rapidly as the three business owners ask others to help. Individuals are also responding, as evidenced by one young man, a client of Good Shepherd Services, who donated $10 to help the poor. As word passes about the new program, others are beginning to donate to GSS.
"Giving is contagious. People work so hard for their money and still find time to comfort the poor.
"When we do good things for others we feel the benefits immediately. It proves that it is not only bad that happens. There are good people in the world. I can see that," she said.