Good Shepherd Mediation Program (GSMP) celebrated two highlights in December. The program dedicated its training room to Kay and Paul McClenon, the parents of Good Shepherd Sister Mary Carol McClenon. Sr. Mary Carol and her niece Lee (Kay and Paul's granddaughter) attended the dedication ceremony. The event took place at GSMP's Open House on December 12, 2016.
Kay and Paul took a lively interest in a wide variety of political and social issues during their lifetimes. The McClenon home was notable for reading aloud from an endless supply of both conventional and quirky magazines. The couple, and inevitably their three children, always showed an interest in progressive causes. Kay and Paul became acquainted with the Good Shepherd Mediation Program through Sr. Mary Carol, who served on staff there from 1991 through 1996. She became a Board Member in 2008.

The McClenon family has supported GSMP for many years. The Mediation Program benefited from a legacy that Kay's sister Ruth Barker left to the agency through the Sisters of the Good Shepherd. The program also received a legacy from Paul McClenon through Sisters of the Good Shepherd. In addition, the Mediation Program has received frequent grants from the Walter H. McClenon Fund, which was created by Paul's father in 1924.
Kay died in 2004 and Paul died in 2014. Executive Director Cheryl Cutrona said, "It was a real privilege to dedicate our training room to both of them."
Good Shepherd Mediation Program becomes a Zone of Peace
Following the dedication of the training room, the Interfaith Center of Greater Philadelphia Religious Leaders Council recognized Good Shepherd Mediation Program as the newest member of its "Zones of Peace" initiative. In recognition of the honor, Council representatives Quaisar Abdullah and David Chiles presented GSMP with a Zones of Peace banner.

The Interfaith Center of Greater Philadelphia advances mutual trust, understanding and cooperation among faith communities in order to work together for the common good of the region.

Its Zones of Peace program is a region-wide movement of community-based organizations, schools, churches, synagogues, mosques and other houses of worship that work to address the root causes of violence to make Philadelphia's communities safer. The program recognizes organizations that are pioneering creative responses to violence and elevates their leadership.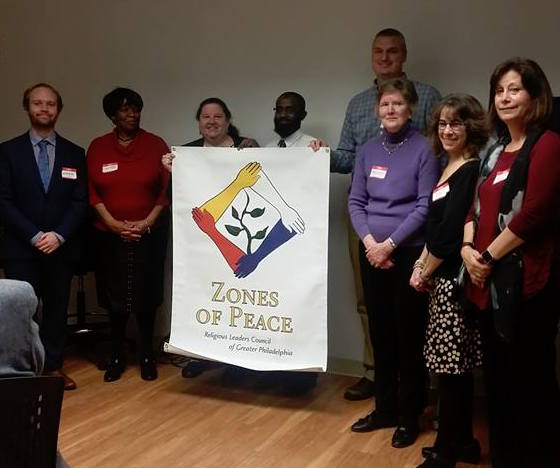 "We feel blessed and honored to have been selected as a member of the Zones of Peace program. This distinction allows us to network and engage with other members in public conversations and educational activities. It also helps us pursue our Good Shepherd mission," Cheryl said.
Visit the Interfaith Center to learn more about its Zones of Peace program. To learn more about Good Shepherd Mediation Program visit http://www.phillymediators.org.