"We all have the Good Shepherd charism within us. We carry it in us," said Sr. Josita Corera.
Sr. Josita, who is from Sri Lanka, came to the Province Center with Sr. Frances Robinson during the week of July 18. They are members of the Good Shepherd Congregational Leadership Team and are assigned to Rome.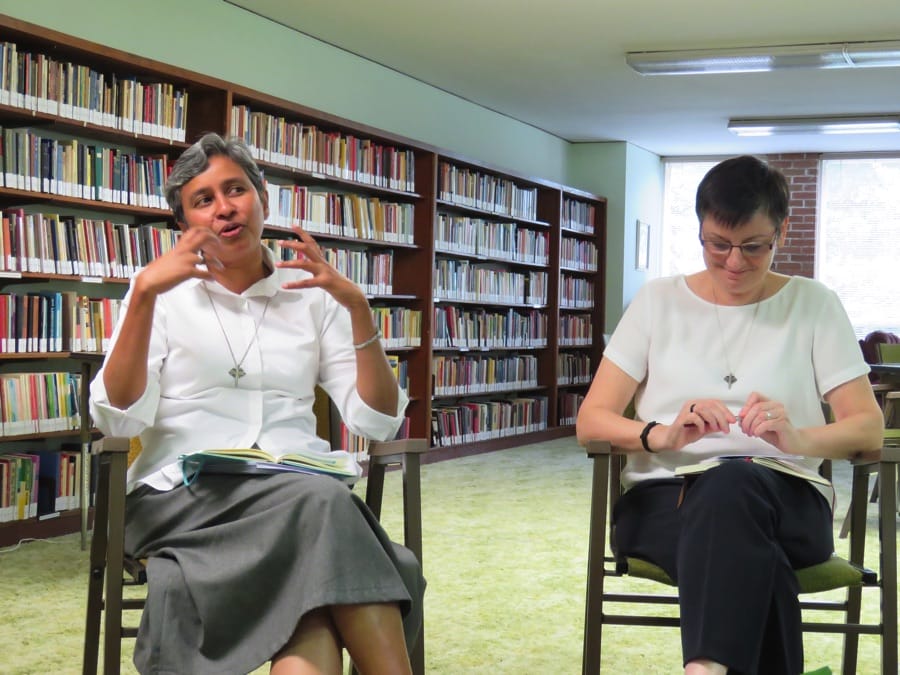 Sisters Josita and Frances had four days free following the Central South Chapter in Carollton, Ohio. They used that time to visit St. Louis and get a taste of Mid-North America. They met and mingled with Sisters and Mission Partners at the Province Center, sharing Mission stories. Conversation was rich with lively interaction.
Good Shepherd charism within us
At one point while listening to Mission Partners tell their stories of how they came to Good Shepherd, Sr. Josita felt awe struck and reflected that we all have the Good Shepherd charism within us.
Sister Frances, who hails from Ireland, spoke with Mission Partners about the Congregation's three international committees. She said, "We have an integrated approach for going forward with the committees for Community, Formation and Partnership. We know that unity among Mission Partners strengthens the Good Shepherd Mission."

Sr. Frances is PMNA's link councilor with the CLT. The Province will offer her a more extensive tour of its operations later in her term. In the meantime, the Province Center experienced the Sisters' desire to support and be of service to PMNA.

Agents of transformation
The Sisters experienced a vast array of events and activities while in St. Louis. They heard heritage stories of the Province of Mid-North America and visited the Province archives. They met with Mission Partners and had lunch with elderly Sisters at Immaculate Heart Convent. During their time in St. Louis they also visited the Lewis and Clark Boat House and Nature Center and Cathedral Basilica of St. Louis. They also attended a rollicking performance of Mama Mia at the acclaimed amphitheater The Muny.
Sr. Frances is excited about moving forward with all Sisters and Mission Partners. She said, "I believe if we really plough the depths of Brother Pinto's input given to us at Chapter and explore it in relation to our Direction Statement, we can and will be agents of transformation, wherever we are in the world. If we can open ourselves to Science and the New Story of the Universe and new theologies, then our understanding of our spirituality, of Justice and Peace, and how we do mission will also be radically altered."
Sr. Josita also has a view to the future. She said, "My desire is that together we will move forward in making the dream of God for our world a reality – a dream for abundance and oneness."