Environmental Justice is a topic that is important to me. So is Human Rights. When I heard that this year's theme for Webster University's annual Human Rights Conference in St. Louis was Environmental Justice and Human Rights, I knew I had to attend. I have long wondered why people who are passionate about human rights are not equally fired up about the environment. Two other Good Shepherd Mission Partners — Jeanette McDermott and Sr. Elizabeth Garciano — wondered the same thing. And so the three of us set off to the conference on October 11 and 12 in search of insight into that question.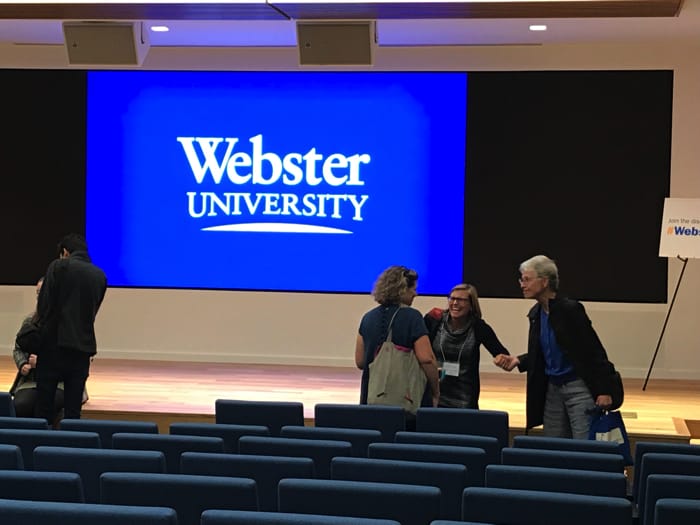 The first speaker at the conference, Dr. Sarah Ray, dove immediately into answering the question. She examined the history of the environmental movement in the United States. From the onset, the nation's environmental spokespersons were among the wealthy, white, educated elite. Theodore Roosevelt is an example. He spread the message about conservation, which resulted in creation of the national park system. A wonderful result. But he was hardly an example of the common person.

Later in the environmental movement the message was often about saving the whale, the spotted owl, the polar bear. Environmental rights rarely considered human rights. Today, in the 21st century, we are at a different place. The two movements, which have not been easy conversation partners, are standing at the intersection of environmental devastation and human misery. This place of suffering is where there is connectedness and dialogue. The Climate Justice movement is an example of this reality.

Environmental Justice and war
A second takeaway for me was viewing excerpts of The First Secret City, a film created by Alison Carrick and C.D. Stelzer about the Manhattan Project during World War II and resulting nuclear radioactive waste that lingers today in St. Louis neighborhoods. As a non-resident, I was unaware that St. Louis had been a site for processing uranium during the war.

The film tells the story of Larry Bergan, a worker initially happy to land a good paying job with a company at the site where uranium was formerly processed. He was totally unaware of the site's previous history. In time, he became gravely ill and didn't know why. Eventually he found out.

He used the Freedom of Information Act to gather the facts. As a result, he reached out to other workers to inform them and help them get their rights. He also began to help residents who had been affected by radiation contamination. As sick and impoverished as he was he was truly heroic in his outreach to fellow humans who were suffering. He had to stand for the truth in the face of governmental bodies who denied it.

Conference speakers told many stories that opened the mind's eye to help clarify the question we Mission Partners had pondered. Basically, this is how things shake out when it comes to environmental and human rights bumping up against each other:

Global warming and the global poor
Human rights advocates contend that climate change threatens fundamental rights to health, livelihood, and property, while also infringing on indigenous rights to culture and profoundly impacting the global poor.

The environmental justice movement brings together scholars and activists who are concerned about both environmental protection and social justice, paying particular attention to how vulnerable populations are disproportionately harmed by rising sea levels, deforestation, desertification, fossil fuel extraction and transportation, the disposal of hazardous wastes, air pollution, and a range of other environmental hazards.

The conference provided intersectional analyses of environmental racism, sexism, classism, and colonialism with the aim of raising critical awareness of the human rights violations caused by environmental degradation.

Attending the Environmental Justice and Human Rights conference was an unexpected gift of knowledge and consciousness raising about issues that are important to Good Shepherds.