Every year Ecumenical Advocacy Days (EAD) draws a large gathering of people who want to be a force for change for the betterment of all. In April more than 1,000 people of faith attended EAD to challenge what Dr. Martin Luther King, Jr. called the giant triplets of chaos: racism, materialism and militarism.
Throughout the gathering participants pondered, analyzed and discussed the Christian foundation of our common work to create what Dr. King called a "beloved community." In beloved communities social, political and economic rights of all are respected and people are able to realize their full potential as children of God.
Presenters of workshops, plenaries, breakfast briefings and panels challenged participants to grapple with and learn more about the impact the giant triplets have around the world, in our communities and in our own daily lives.
Ecumenical Advocacy Days draws Good Shepherds
Speakers, priests and preachers encouraged us to know when to break silence to take a stand and be a force for change. People filled the weekend gathering with prayer, worship, advocacy training, networking with other people of faith and a prayer vigil at the Pentagon.
This year at EAD Christian clergy and lay leaders and advocates participated in a prayerful witness and act of civil disobedience in a Senate office building to reject the budget proposal of President Trump. The proposal calls for serious reduction in human needs spending at home and abroad to pay for sharp increases in Pentagon spending.
The event culminated with a Lobby Day on Monday, April 24. Participants converged on Capitol Hill and met with their state legislators to push for new strategies that will move the U.S. toward community.
Among the Good Shepherds who gathered for Ecumenical Advocacy Days were Larry Couch, Director of Good Shepherd National Advocacy Center (NAC) and NAC Communicator Kathy Dempsey; four Good Shepherd Volunteers (GSV) and myself as documentarian.
GSV Cheryl Rozinski said, "Attending EAD was incredibly refreshing. I met so many advocates, of all backgrounds, ages and faiths united by one mission: to serve God.
"It was an honor to hear of the many ministries, and missions, all ordained by God, to make this world a better place. I learned a lot of facts during the conference, but my highlight was the stories I heard of my brothers and sisters working for Christ. It's an honor to leave this conference with more friends than I came with," Cheryl said.
The highlight of Ecumenical Advocacy Days for GSV Marianna Hernandez was hearing the keynote speaker Tamika Mallory. "She offered great insight into what we, as a community of faith, can do to uplift others and create social change," Marianna said.
GSV Emily Mazzola said, "The most moving moment for me was attending meetings at the Capitol on Monday. Despite all the chaos that our country is enduring, I felt like I was called to be the voice for so many youth who do not have a voice. I am incredibly blessed to have attended EAD to learn, grow and to get into a little bit of trouble to help all of God's people."
GSV Karina Winn said, "I felt hopeful listening to honest  conversations about racism, materialism and militarism. I visited  my Senators' offices with a group of passionate advocates. We thanked our Senators, let them know we've got their back and voiced our concerns on issues impacting our communities. I left Washington DC feeling proud of my fellow advocates, and even more empowered."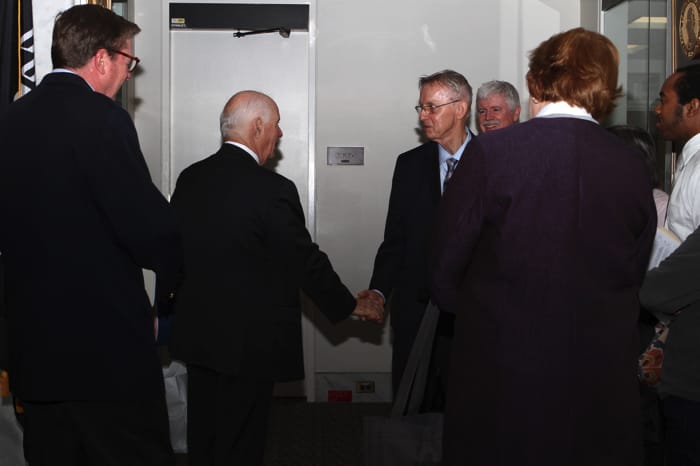 Larry Couch is an old hand at EAD and a familiar face on Capitol Hill. For years he has organized and coordinated the domestic workshops for the gathering, conducted advocacy training and mentored new delegates in the fine art of lobbying legislators. The highlight of Ecumenical Advocacy Days for him this year was witnessing Good Shepherd Volunteers at the gathering.
"Having young Good Shepherd advocates at Ecumenical Advocacy Days was unique and special. I hope we make that an annual tradition," he said.
Larry encourages all Good Shepherd Sisters and Mission Partners to attend EAD, especially those who are interested in advocating for the betterment of our nation and the people who live in it. The next gathering will be held April 20-22, 2018.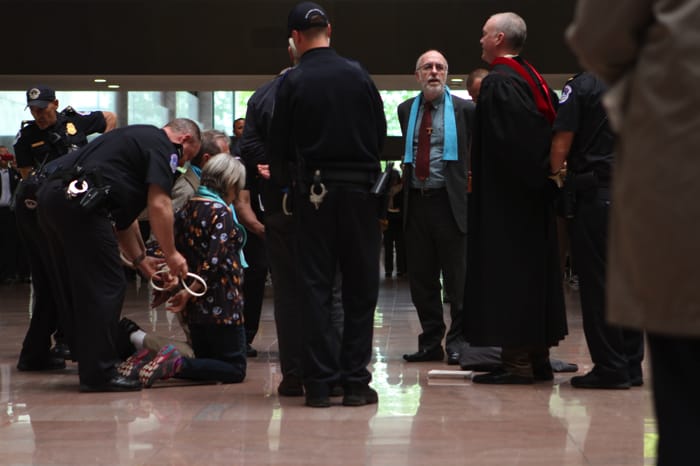 Ecumenical Advocacy Days was held April 21-24, 2017, in Washington, DC. Nearly 50 organizations exhibited their missions, including Good Shepherd National Advocacy Center. To see additional photos and learn more about this year's gathering visit the official site for Ecumenical Advocacy Days.
Keep up with all of the news from the Province of Mid-North America by reading our monthly newsletter Items of Interest.