The DeNeuville Learning Center for Women, formerly DeNeuville Learning Center, has had a branding makeover. The center has a new modified name, new logo, new signage, new floor, and a new website. The bulk of the rebranding was accomplished through in-kind donations valued at $100,000. The new website has interactive digital tools to handle events and allow students to register for classes online. It is a dream come true for staff.
"I can't begin to tell you how excited I am by the changes and how grateful I am for our board members who give so much to us to make this possible," said Lori Bramlett, Executive Director of the DeNeuville Learning Center for Women.
The center is the only adult facility in Memphis that caters exclusively to women and serves women who have come from all over the world. The only criteria for receiving services is that a person presents as female and be over the age of 18.
Demographics of the DeNeuville Learning Center for Women
Some women come to the center because they need help learning English or getting their citizenship. Others are trying to obtain a high school equivalency certificate, or are interested in learning to sew or understand computers. Most students (75%) who come to the center are non-English speaking immigrants and refugees. The rest are U.S.-born locals. Hispanic/Latina women from the largest demographic, followed by women from the Middle East (Saudi Arabia and Iran) and Muslim countries in Africa. Asian women occasionally enroll in classes. The average age of students is 34. There is an even split of single and married women, and about 75% are mothers who bring their young children with them to classes.
"Child care is the most common barrier to women getting ahead," said Lori. "By providing a safe and affordable place for their children, many students are able to complete our programs and graduate successfully."
Part of the center's success is its empowerment approach. Lori said the students tend to give more of themselves if they contribute to their own successes, such as contributing to the cost of child care and textbooks. Books cost $20 and child care is $3 per day. There is a scholarship program available if a student can't afford the fees.
Limited funds prevent the center's expansion
Most of the students come to the DeNeuville Learning Center for Women through word-of-mouth. The center advertises a little through the public schools, but by and large, enrollment is very grassroots. Most of the women who enroll in the programs come as referrals from other students through church groups, neighbors, and friendship circles. Graduations are special times for the women who are enrolled in the program.
The center has physical space to accommodate more women. However, it's not possible at the moment to expand classroom programs or child care due to a shortage of staff and limited funds. Lori said functioning as a nonprofit business makes it hard to fund everything that's needed.
The center often finds itself facing the same challenges repeatedly. For example, a common refrain from prospective donors is that they are already doing their part to help the community by donating to St. Jude Children's Research Hospital in Memphis. Others say they can't fund the DeNeuville Learning Center for Women because it limits services to a specific gender. Other potential donors assume the center is religious or faith-based. These barriers limit funding opportunities.
Dedicated and engaged partners-in-mission
On the positive side, Lori says, "The ladies are here for the right reasons: to be good role models for their children and to provide better opportunities for them."
Lori looks on this same sunny side when speaking admiringly about the center's committed board members, staff, and volunteers. She said, "Amazing people are a part of this center. Our board is incredibly generous and compassionate. We ask a lot of our board members. They are the heart of the organization," she said.
"Our staff and volunteers are loyal and extremely generous too. There could have been a mass exodus when we rebranded, but that didn't happen. Our board members stayed with us. And so did our staff and volunteers. We are blessed to have fully engaged partners-in-mission who are very dedicated to the Good Shepherd mission here in Memphis," Lori said.
DeNeuville began to rebrand itself two years ago. It ran focus groups and small group and large group assessments with key stakeholders, board members, and staff. Many changes were put on the table for consideration including renaming the center and reimagining how the center tells its story.
Localizing the focus of the DeNeuville Learning Center for Women
"We knew we needed to localize our focus to make it easier for people to understand our mission. The process took longer than it normally would have because COVID came along and caused major time delays," Lori said.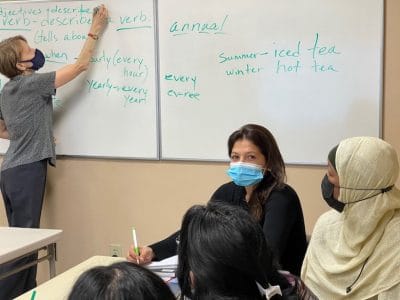 An unexpected but positive outcome of COVID is an improved testing system for women who are working on their high school equivalency certificates. Prior to COVID, students had to travel to a testing center to take the exam. With COVID, the tests went online. Now women can stay at the DeNeuville Learning Center for Women and take the test there. This allows for reduced distractions and hardships, such as finding child care and transportation to get to a testing facility.
The DeNeuville Learning Center for Women operates on the same schedule as the Shelby County school system, making it easy for women to accommodate their children.
"Everything is pretty much a good fit here," Lori said. "But I do dream of being able to provide more resources and classroom programs for women and their children," she said.
"We could double our ability to empower and strengthen women if we had funding for more staffing and teaching, Lori said"
Learn more about the DeNeuville Learning Center for Women at DLCmemphis.org.