COVID-19 became a household term around the world on March 11, 2020. This is when the World Health Organization declared the rapidly spreading coronavirus disease a pandemic, acknowledging that the virus will likely spread to all countries on the globe.
The coronavirus disease (abbreviated "COVID-19") began in Wuhan, China, and made news for the first time on December 31, 2019. Today the number of coronavirus cases is nearing one million worldwide. From the earliest outbreak, the Center for Disease Control made it clear that this situation poses a serious public health risk. Recent attempts to stop the spread of the virus include social distancing and sheltering in place.
Stop the spread of COVID-19
This means staying home. When not at home, such as when grocery shopping, it means distancing ourselves at least six feet apart from anyone else. It also means avoiding places where more than 5-10 people are gathered.
These health recommendations have had enormous impacts on our lives. We no longer eat in restaurants or attend art openings. We don't flock to festivals or participate in fundraising galas. We don't go to workshops or conferences. We avoid visiting family and friends, and we don't travel. Our habits and behavior have changed in efforts to stop the spread of the virus.
What does this mean for Good Shepherd? What impact is COVID-19 having on the Province ministries, programs, Mission Partners and Sisters?
I asked those questions, and here's what people said…
Lizzie Cody, Director, Office of Mission Effectiveness
Frankly, it's heartbreaking to plan the Good Shepherd North America Gathering and have to cancel it. People who participate in the Gathering consistently give feedback about how meaningful, connecting, and encouraging it is to meet other Good Shepherds from around North America.
The Gathering is an annual event that the North America Mission and Values Team puts many hours of thought, work, prayer, and preparation into. The Mission Effectiveness Office is all about connecting Mission Partners to one another, the mission, and Good Shepherd values.
Losing the Gathering this year to COVID-19 feels like a blow. I will take this time to brag about our province leaders though, and say that they have been incredibly supportive and encouraging. We all want to look after one another and do what's best for all. The Gatherings have been happening regularly in some form or another since the 1970's. We are looking forward to the day when we can host it again.
That being said, this moment in time is the PERFECT opportunity to live what we say we believe. Hard moments are exactly the time when we can let our core values and the mission of Good Shepherd tell us what to do and how to respond.
We need to connect now more than ever. Mary Euphrasia gave us some incredible examples of adjusting and being creative when something unexpected or unwanted happens.
One example I can think of is when she was asked to take in 70 adolescent female "prisoners" from Paris. She only had a couple of days to get ready. Two Sisters went to get the girls, and all of the other Sisters made dresses, meals, and prepared the farm called Nazareth.
When the young prisoners arrived, they were given new clothes and dinner, and were shown love and dignity. Sometimes we have to scramble and change plans and just make stuff happen!
So, Mission Effectiveness is brainstorming other ways to encourage people to stay connected during COVID-19. Mission formation needs to be consistent and ongoing, so we'll provide more opportunities than ever before for weekly connection.
Maybe we won't be in person to do a 3-hour session like we usually do, and there won't be a Gathering, but there will be even more encouragement and opportunity.
We don't stop doing what is important and necessary when a crisis hits; we just do it differently. I'm honestly feeling hopeful and energized at the chance to do something new and different.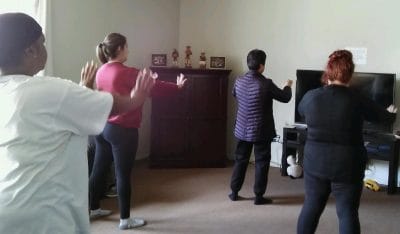 Marguerite Bartling, Director of Gracenter
It feels so strange to have our Good Shepherd Guild cancel their Spring Luncheon that was scheduled for April 15, as well as their May Installation.
The Guild held its first luncheon for Good Shepherd in 1932. This year is the first time in 88 years that the annual fundraising luncheon has been put on hold. Gracenter depends on the Guild's fundraising efforts to support our residential recovery home for homeless women.
Speaking of our residential women at Gracenter, two of them had to stop going to City College and are doing their classes and homework online. One woman works remotely on her computer in the wonderful computer lab at Gracenter. Three women have lost their food service jobs in San Francisco.
We are carefully following the directives for COVID-19 from the Center for Disease Control to protect our women and staff. We are constantly disinfecting surfaces and washing our hands. We are staying home and away from public crowds. Of course, we pray diligently for the health and wellness of all.
We are also listening to webinars about how to cope with COVID-19, and we are trying to learn how to put on "virtual events" in the coming months.
It is a whole new world with the social distancing and disruption of normal everyday activities such as shopping or going to meetings. It's a good thing our technology is at our finger tips so the women in residence can join AA meetings through Zoom.
Sister Olga Cristobal teaches a Tai Chi class to the women in Gracenter, and Sr. Anne takes Gracie, our dog, for a daily walk. She takes the women too, if they wish to walk.
Mary Carol McClenon, RGS, Local Leader, Danville Community
We are extremely lucky. Because we have a resident priest-chaplain, we still have the privilege of daily Mass, although we are attending it "remotely." In our diocese of Harrisburg, the priests are directed to celebrate Mass "privately" with an allowance for a few ministers assisting. Our chapel has closed-circuit TV. So we have about five or six Sisters in chapel with him (at social distance, of course!).
These Sisters bring Holy Communion to the other 40 or so Sisters in the building. Those with televisions in their rooms follow our Mass on TV. Those without personal televisions gather in one of five common rooms with large TVs. This set up has worked amazingly well. There is no real disruption to our regular schedule, and I don't have to worry about my elder Sisters being deprived of the Sacraments.
We are following protocol for COVID-19 on our 3rd floor, the Personal Care home. As a licensed facility, it's a little stricter than the rest of the convent. The 3rd floor residents (which includes Good Shepherd Sisters Grace and Kathleen) have to be at least six feet apart from each other at all times. For meals they are seated two at a double table, within talking distance of each other, if they don't have hearing impairments. Sisters Grace and Kathleen miss the table fellowship with all the rest of us, but they are doing okay. At least they are not isolated in their rooms.
Before we began to shelter in place, most of our Sisters went out for medical appointments. One of the stressors now is figuring out which medical appointments are "essential" and which are not.
Some appointments are being converted to telemedicine and others are being indefinitely postponed. We've got a couple coming up that are "essential."
There is anxiety about exposure to COVID-19 while out and the risk of bringing infection back in. But it is what it is. We have a huge campus with beautiful grounds and good paved
walking areas, so there is no trouble about getting their regular exercise whenever the weather permits.
Our community has been blessed with a positive focus. Sr. Rosary Oliveira arrived from Portugal the night before the European Travel Ban went into effect. She is here for English Immersion. We can't send her to ESL school since schools are closed, but we are doing a mighty good job teaching her ourselves (largely because she is an excellent learner, and also because we're giving her a lot of attention). She is a delight and it's a wonderful distraction from the general pervasive anxiety.
We had a pizza party to celebrate Sr. Beth's feast day and the end of Sr. Rosary's "quarantine" after travel. It was nice to feel festive.
We have Food Service and have not had to worry about grocery store shortages. We have started wrapping the cutlery in paper napkins and putting it on the tables before each meal rather than everybody handling it in the cafeteria line. Several of our Sisters have generously become daily "wrappers".
We have three Sisters in the nursing home, and they are on lock-down. We cannot visit, but one of the Sisters of Saints Cyril and Methodius works there so she is allowed in and out, and she gives us regular updates. Staff did the care plan reviews over the phone yesterday. I don't think our three Sisters have a sense of time so I don't think they are exactly "missing" our visits. We are much luckier than families whose elders are still oriented in time and space.
For myself, I would think that I would have more time to catch up with administrative stuff since there are substantially fewer medical appointments. I guess I have made some progress on my backlog, but not a lot. I have a new job description for the role of leadership, which is to catch whatever is thrown at you. I think everyone experiences a greater degree of anxiety than usual. Some of us are obsessively watching the news while others are obsessively avoiding it.
All in all, we have not experienced much change in the regular rhythm of life at Maria Hall. Nobody here has the virus or the flu or a cold at this time!
Dolores Kalina, RGS, Beechwood Community
Our older Sisters at St. Margaret Hall are remarkable in how they are adjusting to no visitors during COVID-19. This includes canceled activities where outside groups would come to entertain. They know the reason for all of this and so accept the restrictions. They have been creative in connecting with each other.
If a Sister's door is open they will stop by and chat a while or give information from the hallway. Also, they have advocated for Bingo and so now the arrangement is for those who wish to attend sit one at a table to keep a distance. Those of us who cannot visit them have sent each one a little package of goodies, notes from each of us and some province information. Letters and phone calls take place regularly. Our eldest Sister, Alena Bernert is 92. She keeps us informed of what is happening at St. Margaret Hall.
Mary Vogt, Director, Marketing and Fund Development, Vista Maria
Having our plans and events canceled and disrupted is challenging. It is difficult to start and stop and start again and feel as though we are maintaining our momentum of moving the mission and message of Good Shepherd forward.
At Vista Maria, we help children affected by adverse experiences through many different services and programs. It is our vocation and responsibility to make sure those in our care are well-tended and unburdened.
It is never easy to cancel events, but with the COVID-19 crisis people realize cancellations are out of our hands. As an example, we were
forced to postpone our signature event, "Celebrating Women" from the end of April to the end of September. Our committee and volunteers were supportive and expressed a sense of relief at how quickly we responded to ensure that we were all safe and that we could secure the same venue at another time without financial penalty.
Overall, our Vista Maria team is as resilient as the youth we serve. We all share an understanding that there will be an 'after' this situation and that events will continue someday. We will gather again in large groups to celebrate, someday. It is finding comfort in the shared uncertainty of when that allows us to say it's out of our hands and God's Will, be done.
Here's what it feels like for me to run a large ministry in the time of COVID-19. I feel two burdens. The first is the burden of making sure children and their families are supported during these difficult times.
The second wave of challenges came when we were informed that we could no longer provide services until further notice because of the virus. More than 60 percent of CORA's revenues result from billable fees for services rendered.
Both of these situations have seriously challenged us. First, anxiety and fear are high as parents juggle full time employment and homeschooling, while others are laid off and face unemployment.
These environments often create the potential for those with addiction histories to move back towards their negative tendencies to cope with the stress around them. These environments put the children we serve at risk. The need for our services is greater than ever. And yet because of coronavirus, we have become limited in our ability to provide the "touch" of care and compassion that exists when we are face-to-face with our clients, students, children, and families.
We have had to adapt quickly in order to continue to serve ALL children and families regardless of their access to technology at home. Within a few weeks before closure and into these past two weeks all children and families have been contacted and are being served in some capacity, if they desire to be served.
The second challenge — the indefinite closure of CORA Services — has put us into an emergency crisis. When something like this happens, leaders, along with their entire teams, move into crisis management.
No longer can we focus on operations; now we are required to focus on advocacy at the local and state level – across all funding systems and relevant city and state departments. We have to take fast action.
In our case, CORA had the potential of losing $90,000 dollars per day if these systems stayed unfunded. There became a fine balance between taking fast action to reduce staff and holding staff to maintain service while advocating — not knowing if funding would ever catch up with service or personnel expenses.
The Board of CORA Services has become engaged in new ways as we attempt to discern how far we can wait before critical, possibly irreversible decisions are made. In the meantime, there is a need to cast vision for new service delivery and to keep staffs motivated to work when they don't' know if they will be laid off soon. Honesty that includes both successes and risks must be communicated and communicated well. Everything is very fast so we hope and pray that along the way we make the best decisions possible.
Overcoming the hardships
The first few days of closures from COVID-19 were chaotic and scary. News was coming our way nearly every minute as all systems around us were trying to make sense of the new "new."
We are not out of the water yet, but we have stabilized. Our schools closed on Friday, March 13th. It wasn't until 12 days later that I was able to breathe and know that, for now, my staff could continue to serve at full capacity.
By the way, like much of the country, as a working mom, I had the added responsibility of being a homeschool parent.
CORA is overcoming hardships to continue the mission. We have led, in many ways, the creative service delivery ensuring our programs remain. We submitted a continuity plan to the City of Philadelphia.
We are now doing telehealth and education enrichment by video and telephone, including special instruction by video for physical and occupational therapy. We have led the city in developing live online support for after-school classrooms, small groups and youth diversion. We are supporting families with emergency funds and offering care packages that are being delivered by Amazon.
Our peer recovery support systems remain intact as do all case management supports. Truly this list of supports goes on and on. We are poised right now to increase capacity and will soon be opening our intake lines across the board.
Our next step is to develop a very robust Family Navigator system. The system needs describing, but it has been a goal of CORA for some time and we were hoping to launch it in the next couple of years.
Like any difficult time, out of it can come new innovations that would have never existed if it were not for the challenges. We are looking at this time of COVID-19 as providing that opportunity.
Having said that, as this virus grows and spreads, we are well aware of our need to support grief. I do not find joy in this crisis even though we will use this time to grow and develop who we are, what we do, and how we do it for all of our community.
Most importantly, I have profound gratitude for being able to rely heavily on a creative, dynamic and highly competent mission driven team to get through this.
Madeleine Munday, RGS, Province Leader, Mid-North America
We are together in prayer for everyone and everything regarding COVID-19. I commend all of the agencies – their CEOs, Boards and staff who are making decisions and taking actions to continue services wherever and however possible. Be assured of the constant prayers of all the Sisters.
All Province Center employees are home. The majority are able to continue working remotely, along with the leadership team. Zoom meetings have multiplied and we appreciate being able to connect. Thank you for your dedication, service and prayers. It is good to be united with you in mission!
Coronavirus Timeline
For a timeline review of the coronavirus, visit https://bit.ly/2WVU4xc
For daily situation summaries by the Center for Disease Control, visit https://bit.ly/2QLgwVK
Catholic women religious and COVID-19
The COVID-19 pandemic can be invisible, insidious and deadly, but Catholic women religious and the organizations they created or run are at the forefront of efforts to stop it. Sisters in health care, advocacy and immigration are responding to expanding needs of the coronavirus situation. Read about these efforts at Global Sisters Report. https://bit.ly/33VlR22
Read more stories about Sisters of the Good Shepherd's ministries in Items of Interest.