A convent is not an easy thing to close. In the past two months I have reported on the transition of the Immaculate Heart Community to Mason Pointe Care Center. In this blog I look at the convent itself and ask — what happened to everything in it after the Sisters moved? 
To answer that question, I caught up with Sr. Mercy DeLeon, whose first order of business in closing Immaculate Heart Convent was to clear it of its contents: books, art, furniture, equipment, appliances, religious artifacts – everything.  
Sister Mercy's intent in emptying the convent was to ensure that the goods went to agencies who needed them. Among the recipients were  Mother of Good Counsel Home; L'Arche St. Louis; International Institute; Our Lady's Inn; Archdiocese of St. Louis, Office of Reclamation; Habitat for Humanity – ReStore; and Society of St. Vincent de Paul. Assumption Parish in New Haven, Missouri, is gathering people and equipment so they can transfer the convent's outdoor statues to their church and cemetery.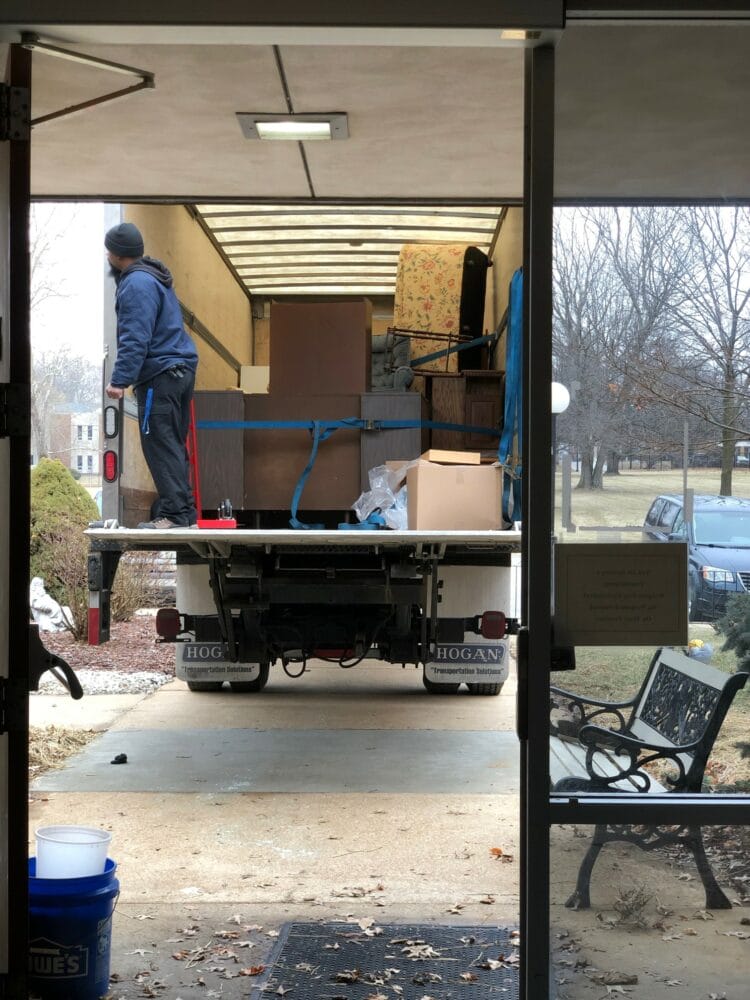 Filled with nostalgia
In addition, Province staff were invited to take what they wanted in exchange for a nominal donation. As Sister Mercy went about emptying Immaculate Heart, she said a number of feelings swept over her.
"I was filled with nostalgia as I  remembered the demolition of the old Immaculate Heart Convent and our excitement when our Sisters moved to their new home. I had mixed feelings of loss and disbelief the first few days of walking into the convent with no Sisters in it. It didn't seem real," Sr. Mercy said. 
"And then feelings of wonder, awe, and gratitude swept over me as I reflected on how our Sisters lived out the "mystery of faith" day in and day out at Immaculate Heart. No doubt, their ministry of prayer continues. Although they will miss contact with the school children of St. Ann School, their presence and spirit of welcome will bless the Mason Pointe population in ways we will never know.  They can't help being Good Shepherd sisters wherever they happen to be!" said Sr. Mercy.
On another level, Sr. Mercy said dealing with the vast amount of storage space was astounding; however, as she found new homes for the contents, the feeling of joy overtook her. 
Enlightening lives
"I'm grateful that the Community's assets have been distributed in a way to benefit many. I'd like to think these resources will enhance someone's life and spiritual practice, as well as the environment through reuse and repurpose. 
"For example," she said, "a couple of appliances from Immaculate Heart will be part of the new training kitchen for the clients of the International Institute. I believe we made a significant contribution to them," Sr. Mercy said.  
Sister Mercy has experienced these feelings before. She went through a similar process when the Baltimore convent and ministry closed two years ago. When I asked her how she deals with closing houses, Sr. Mercy said, "The closing of a house or ministry is life-changing for everyone involved. Decision making may take a long time or it may seem abrupt. It's a complex process that calls for courage, resilience, and creativity. 
Sister Mercy went on to say that closing the Immaculate Heart Convent, as well as the convent and ministry in Baltimore, helped her to be more attuned to the connection between the personal lifestyle choices she makes and the effects her choices have on the environment.
The religious items that once served Immaculate Heart will stay in the reclamation center until they find new homes in a mission church, prayer or reflection room or other Catholic place of worship or religious life in the U.S. or abroad.    
From convent to reclamation center
"We repurpose for the faithful. I pass along pieces to bring God to the people and keep the Catholic faith alive. I do not give consecrated objects to places or people that are not in service to God," said Deacon Joe Streckfuss, who oversee the reclaimed artifacts.
There's a deep religious tie to this line of work, an awesomeness to it," Deacon Joe said.