A prayerful moment at the Congregational Assembly of Contemplative Sisters paid tribute on November 11th to the 196th anniversary of the foundation of the Contemplative Sisters. The assembly recalled the Sisters' history through photographs. The presentation began with the Magdalen Sisters, as they were first known. They moved on to being named the Sisters of the Cross, and then to being called the Contemplative Sisters of the Good Shepherd.
Today, their current and rightful name is Sisters of Our Lady of Charity of the Good Shepherd. In some communities, there are Sisters who have lived through the four name changes as well as the changes in the Church since Vatican II (1962-1965).
In honor of the contemplative Sisters' long history, Items of Interest shares some historical facts about the Sisters and their lifestyle.
Contemplative Sisters, one of two Good Shepherd lifestyles
The Good Shepherd congregation is unique as an apostolic community with a part of the membership living a contemplative life in various provinces – a lifestyle that is very different than that of the apostolic members who go out into the world to serve others.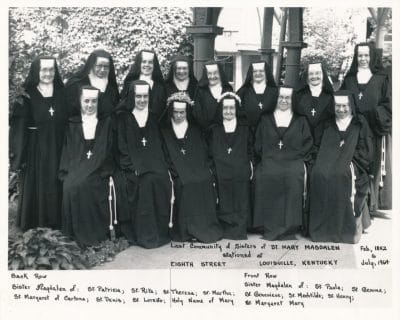 The contemplatives live according to essential elements that are common to all contemplative communities. A few additional essential elements are unique to the Good Shepherd Contemplative Sisters.
Common essential elements include the primacy of God, vows, liturgical life, silence and solitude, lectio divina, Gospel asceticism, prayer/contemplation, enclosure of the heart, and being a welcoming community. These elements include the need to balance prayer, work, leisure, and study.
Good Shepherd adds a few more elements that are unique to the congregation. They are mercy of the Good Shepherd, universal zeal, apostolic incarnational prayer, reconciliation, community life, complementarity/unity, and a focus on justice. No one element is more important than another, as they are all interwoven.
Through these essential elements, the contemplative Sisters listen to the Spirit in order to identify how they might continue to offer the best of themselves.
Contemplative Sisters named for Mary Magdalen
The contemplatives took their early name Magdalens from Mary Magdalen, who, today, is being rediscovered and seen as a new vision for the history of spirituality.
Mary Magdalen is a woman who searched for Jesus on the first Easter morning, and when finding him, experienced a deeply personal transformation.
This Resurrection morning, in her meeting with Jesus, a new creation is opened. Everything begins again — all things are made new.