The People's Climate March connected people to a cause and each other. As for me, I'm connected to an online group that goes by the name of Elders Climate Action. The national grassroots group of people over age 50 is focused on understanding the science of climate change so we can use that knowledge to craft messages that allow us to influence the political system.

Climate March values
I had planned to march with Elders Climate Action in the People's Climate March in Washington, DC, on April 29. As I entered the fray of 200,000 people
and walked to the staging area for the march, I saw that people were organizing under contingents that spell out the values many of us share: Guardians of the Future, Defenders of Truth, Keepers of Faith, Protectors of Justice, Builders of Democracy, Reshapers of Power and Creators of Sanctuary.

I briefly considered switching allegiance and marching under the banner Keepers of Faith, where Catholics, Protestants, Muslims, Jews, Hare Krishnas, Tibetan Monks and others had formed. But I had grown restless waiting in the hours-long staging area and abandoned the notion of marching under any banner. Instead, with camera in hand, I set out to witness and document the entire miles-long People's Climate March.

The march was overtly political and put a sharp focus on climate change, jobs and justice. Most people I met said they had joined the march to strengthen efforts to resist President Donald Trump's environmental policies.

The event took place on Trump's 100th day in office, which is a measuring stick for a new president's priorities. In his first 100 days Trump has rolled back crucial environmental protections — protections that were hard-won, and were set up to both combat climate change and protect threatened and endangered species and the most at-risk people among us: low-income communities, communities of color and our nation's children.

Elders Climate Action held a special event in D.C. the day before the march, where Ellen Stofan, former chief scientist at NASA, summarized the latest research on global warming. She noted that if current trends continue, the average surface temperature on Earth would be 113 degrees Fahrenheit by 2099.

"We can't grow crops at those temperatures," Stofan said. "The Earth will recover. It's not clear the human species will. We're at a crossroads."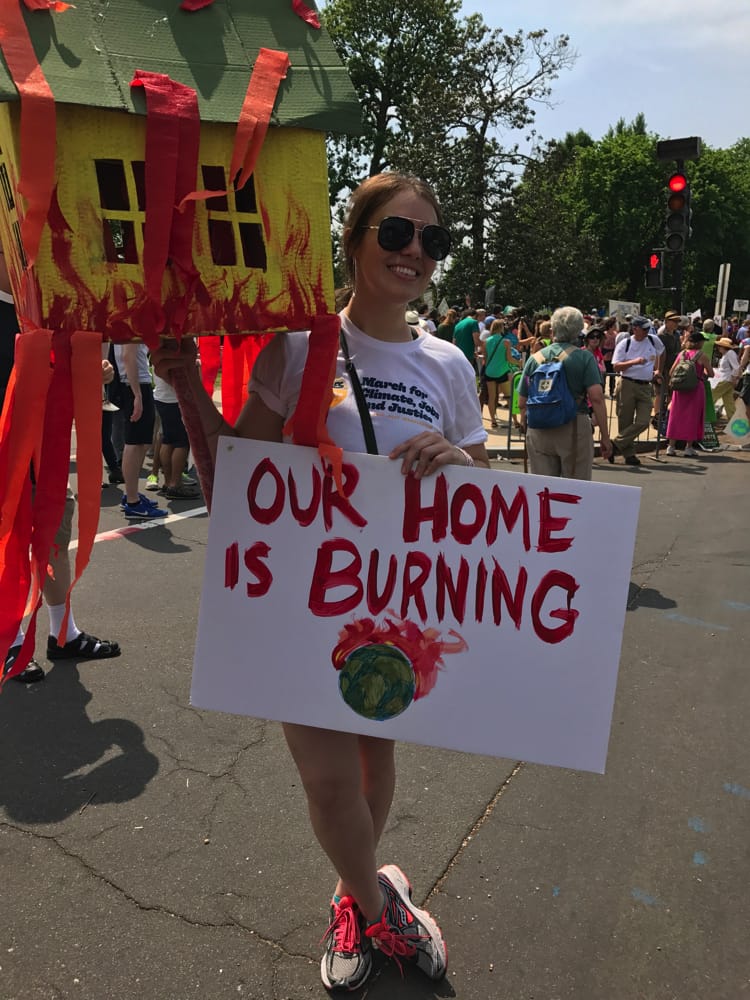 Paul Severance of Indianapolis, co-chair of Elders Climate Action, said, "As we get close to 80, as I am, we are concerned about our legacy. Will we be the generation that clearly knew what was coming and didn't do anything about it? Or will we truly be the greatest generation?"

Climate march metaphor for ministry
More than 200,000 people gathered in front of the Capitol Building. We marched to surround the White House, and reconvened at the Washington Monument to connect and share the stories that brought us to the march.
World famous environmentalist Bill McKibben headlined the march. The founder of 350.org has written passionately and extensively about the spiritual underpinnings of his drive to save the planet.

"The one advantage that people of faith may have is that they're able to at least hope that if we do everything that we possibly can, the world may meet us half way," McKibben said.

"As long as faith leads one deeply into action, and not deeply into inaction, then that's a very good thing," he said.

The Rev. Brooks Berndt, United Church of Christ minister for environmental justice, cited the climate march as a fantastic experience. He said, "If you think about it, marches are a wonderful metaphor for ministry. There is a moment in which a diverse group of people come together for a common purpose that inspires and motivates. Everyone brings their own unique personality and creativity to the march as we move forward together.

Moving forward together
"Like any good march, there is a sense in which we keep on moving forward together even after it is over. We find next steps that we take in our own communities. In that way, the spirit of justice stays alive," Berndt said.

As the sun faded on the march many hours and miles after it had begun, I limped on dog-tired feet across the city back to the hotel where I was staying. I felt weary but satisfied, knowing that I had lent my own unique voice to the movement for justice and change.
My cries merged with hundreds of thousands of other defenders of truth, faith and freedom. I had used my camera to inspire and motivate and, I hope, spur others onward in the promise to dream, rise and fight for Mother Earth and all of creation.
Read our newsletter Items of Interest for more stories like this. Visit our National Advocacy Center to learn about other political actions that Sisters of the Good Shepherd are engaged in.