During the final days of the Vietnam War 47 years ago, a young nun in the Vietnam Mekong Delta helped a toddler escape to safety as the city of Saigon began to collapse. Jason was a mixed-race baby born to a Vietnamese-French mother.
As communist North Vietnamese forces advanced through South Vietnam, the people grew terrified of what would happen when the Communists took control of the country. They feared that the Communists would burn children whose fathers were U.S. soldiers or brutally murder any mixed-race infants and toddlers.
Operation Babylift begins
On April 4, 1975, the U.S. government began a military operation called "Operation Babylift." Children from Vietnam were boarded onto transport aircraft and flown to western countries for adoption.
Many frantic mothers saw the evacuation to western countries as their children's only chance of survival. Commercial flights into and out of Vietnam had ended months earlier. Operation Babylift was the only way for parents to evacuate their children from South Vietnam.
As parents' desperation grew, they began to give their children to nurses, nuns, volunteers, and U.S. military crew members, hoping they would give them a chance to survive.
The last flight with children left South Vietnam on April 14, 1975. More than 3,300 babies and children were evacuated from Saigon during Operation Babylift, including 18-month-old Jason.
The nun in the story is a Good Shepherd Sister
The nun who had helped Jason escape was Good Shepherd Sister Christine My Hanh Truong, who now serves as Executive Director of Good Shepherd Services (GSS) in Atlanta, and is a member of the Province Leadership Team.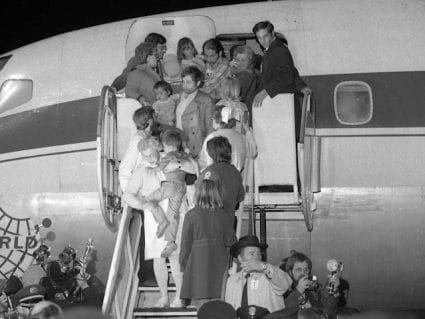 GSS serves the Vietnamese population in Atlanta, as well as U.S. adoptive parents who want to learn about the culture and traditions of Vietnam so they can raise their adoptive children with knowledge of their roots. Sister Christine described those final days of Saigon's collapse as harrowing, chaotic, and excruciating.
"The children's lives were in immediate danger. We had to get as many babies out of Saigon as fast as we could. Every day was chaotic with everything happening so fast. The first plane with babies on it crashed shortly after take-off and many babies, children, and adults died. But we had to keep going to save as many of the other children as we could," she said.
Many organizations were involved in evacuating babies and children. Paperwork was not first on anyone's mind during those chaotic days. Survival is what mattered.
"There were Vietnamese agencies and organizations from different western countries. Taking the babies from heartbroken mothers and evacuating them got very emotional, confusing, and chaotic. It became nearly impossible to tell which papers belonged to which child," Sr. Christine said.
Today, the Vietnamese adoptee-run nonprofit, Operation Reunite, is using DNA testing to match adoptees with their Vietnamese families. This is how Jason found his birth mother. How Jason found Sr. Christine is another story.
A chance encounter with Sister Christine
About four years ago, two men came to the Good Shepherd Services center in Atlanta. One of the men was filling out paperwork, and the other one was standing. Sr. Christine asked the man standing if he would like to sit down. She spoke to him in Vietnamese. He replied in English that he didn't understand what she was saying.
Most of the clients at the center are Vietnamese immigrants or refugees, so the man's answer surprised her. Taking a closer look at the man, Sr. Christine asked him his name. He replied, "Jason."
With wide open eyes, Sr. Christine talked about helping a mixed-race baby named Jason escape Saigon 47 years ago.
Jason listened as she described how she had placed the baby in the arms of a Dutch woman who had emigrated to America and offered to adopt him. She had already adopted two Vietnamese girls and assured Sr. Christine that she would adopt Jason too. Her name was Lya.
"Is Lya your adoptive mother's name? Is that baby from the Saigon airlift 47 years ago, you?" Sr. Christine asked Jason.
"Yes," he answered.
The two of them stood dumbfounded by this chance encounter. Jason asked Sr. Christine if she had any knowledge of his birth mother. She did not, but the unfolding of events with Sr. Christine had motivated Jason and ultimately led him on a quest to find his biological mother, with the help of a cousin in California. Jason sent his cousin a DNA sample, and the cousin used it to find a match for Jason's mother.
Family reunion
Jason's biological mother and her brother, Jason's uncle, came to Atlanta after Christmas to meet Jason and to thank the nun and adoptive mother for saving his life so many years ago.
Jason didn't know what to do when they arrived because he doesn't speak Vietnamese. Sister Christine suggested that he bring his mother and uncle to Good Shepherd Services so she could translate.
"And so, we had a reunion with Jason and his mother and uncle, Lya, and me. Everybody was numb. It was really hard for any of us to believe what was happening," said Sr. Christine.
Checking to make sure the claim is valid
Sister Christine wanted to make sure that everything was OK, and that the woman who claimed to be Jason's mother was in fact his biological mother.
She peppered the woman with questions about that fateful day in April 1975. She could only have received answers from the mother who had released her child for evacuation from Saigon.
Jason's biological mother pulled out a photograph of the toddler. The picture shows a baby with curly brown hair being held by a Good Shepherd Sister from Ireland.
Sister Christine remembered that moment 47 years ago when Sr. Bernadette Sullivan held the baby before he was evacuated. The photograph and responses to her questions convinced Sr. Christine that the reunion was legitimate.
Jason's mother now lives in France with her brother, who sponsored her immigration. Jason cannot communicate with them because of the language barrier, but he is happy to know he has a biological family.
On February 1, the Vietnamese New Year (Year of the Tiger), there will be a big and festive celebration at Good Shepherd Services for Vietnamese people who were adopted as babies. There are many Vietnamese adults who were adopted as children in Atlanta, according to Sr. Christine.
A film production company in France has expressed interest in producing a documentary about the reunions.
"Good Shepherd Services Atlanta has a long history of doing things to demonstrate how God brings much joy to others," said Sr. Christine.
"Sister Bernadette Sullivan, our beloved Irish missionary in heaven, will be so delighted to read this story," she said.