Looking at her figure lying in the glass coffin at the Motherhouse brought tears to my eyes. I admire her so much; she was an example for women at a time when women were not allowed to be examples. She had done and still does so much good for so many girls, women and men too.
Ever since 1965 when I first learned about Saint Mary Euphrasia, I believed her to be one of the greatest women to grace this earth. Fifty-three years later, in 2018, my dream had finally come true — that of visiting Angers, France, where Mary Euphrasia grew and developed the congregation of Our Lady of Charity of the Good Shepherd, better known as Sisters of the Good Shepherd.
When I learned that pilgrimages to Angers occurred regularly, I put that on my bucket list. The wish was granted in a very different way than I imagined. My daughter took the family to Normandy, France, on a business trip. Sister Nirmala Abeyasingha graciously hosted me for the day, and we toured the Good Shepherd Motherhouse. It was so moving to know that I was actually walking in the same places so many brave souls had walked before.
Humbled to be called
To see and touch the belongings of Mother Euphrasia was astounding. I felt so blessed to be a part of a movement called by God to work for the salvation of souls all over the world. I felt humbled to be called by the Lord to be a Companion of Jesus the Good Shepherd. Such a wonderful preparation the Sisters made for me!
It was also a great pleasure for me to meet Sisters from all over the world. It made me realize that this order is truly global. Women come from all different cultures with the sole desire to model themselves after this great saint and seek the salvation of souls placed in their care.
As I toured the buildings, prayed in the chapels and stood by the Green Door, I felt overwhelmed.
In 1965 I decided to explore what I perceived as a call to the Religious Life. But I did not want to become a Dominican teaching Sister, or a Franciscan nursing Sister. So what to do? I got a book from my high school library about the Religious Sisterhoods in existence at that time. There I found both the Sisters of Our Lady of Charity of the Refuge and the Sisters of the Good Shepherd. I kept the information for a future time, as my parents refused to consent to me becoming a Sister.
Off to college I went, until my parents passed away. In 1968 I contacted the Vocation Directress, Sister Mary Our Lady of the Angels, and scheduled a weekend visit to the Good Shepherd convent on Gravois Street in Saint Louis.
Greeted by love and kindness
I must say that it was eerie driving up to that 1880s building in the dark with a full moon shining through the leafless trees. But I was greeted by loving, kind, happy women on the inside. And so began my journey with Good Shepherd.
For one summer I worked at the House of the Good Shepherd in
Chicago, where I met Sister Mary Lourdes Langenfeld, Sister Pamela Marie Volland (Sister Bernadette at that time), and Sister Mary Ignatius. Being there felt so comfortable to me. I loved the work and the people. Consequently, along with two other women, I went by train from Chicago to the Novitiate in Los Angeles. In Los Angeles I met Sister Mary Carolyn McQuaid and Sister Mary Charlotte Kirst, among others.
Sadly, after a year I chose to return home, but I stayed in contact with the Sisters I had met in Chicago. For many years I pursued other avocations of marriage, family, and career. But I always stayed in contact with the Sisters. Being with them felt right.
Companions of Jesus the Good Shepherd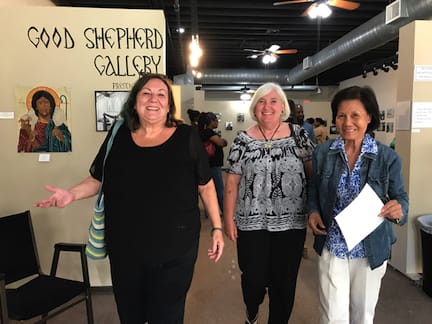 In the early 2000s, Sister Pamela Volland told me about a small group of lay women who were associated with the Sisters of the Good Shepherd. They were called the Companions of Jesus the Good Shepherd. She thought I would enjoy being a part of this group.
We agreed that she would contact Sister Janice Rushman so that I could learn more. We met at the Good Shepherd convent in Omaha, Nebraska, where Sister Mary Ellen Dolan and Sister Mary Eileen Schiltz lived. After learning about the Companions, I felt comfortable pursuing it further.
Sister Eileen agreed to be my Mentor, which led to another great friendship until she died. We never know how long people will be a part of our lives.
It took a while for me to meet the Companions, as I did not have the means to travel to the retreats. Finally, I met them at the Province Center in Saint Louis at their bi-annual meeting. I felt right at home with everyone.
Privileged to take my vow as a Companion
I was privileged to make my first vow with the Companions after three years of association with them. Then, three years later, I made my final vow with Sisters Pamela, Lourdes, Carolyn, with many other Sisters and Companions in attendance.
Being a Companion all of these years has been a wonderful experience for me. Now I am commissioned with serving on the Triad Leadership Team, the three- member elected governing body of the Companions. I pray that I will be beneficial to the Companions in this role.
The Companions are an excellent organization for any woman who wants to live a vowed life of service, but is not called to consecrated religious life. Companions are tasked with spreading the Word of God in our own environment and living situations. Our works of charity are varied according to our own life styles. Good Shepherd Zeal leads our lives to our Eternal Savior.
Appreciate it, Lots of forum posts. Superb posts, Regards. best online casino Effectively voiced without a doubt.