Sisters in the Province of Mid-North America felt a sense of urgency to move the province forward four years ago when they gathered for Assembly in Belleville, Illinois. They met in November 2016 to plan for the future of the province. Sister Caridad Tamayo remarked during that Assembly, "What a gift to know the heart of my Sisters, burning with zeal for the mission."
Fast forward to the 2020 Assembly that took place online in October, where Sr. Caridad said, "I believed long ago that something was going to change in our minds and in our hearts; something new was coming, and it is almost here."
Others feel it too. Mission Partners have made comments like this when evaluating the 2020 Assembly:
I believed long ago that something was going to change in our minds and in our hearts; something new was coming, and it is almost here. ~ Caridad Tamayo, RGS
Dynamic 2020 Assembly energized and inspired participants
"We are more ready for whatever may be coming down the pike. We have all the pieces from summer. The tone … there was such a lovely spirit of Assembly."
"When I reflect on the 2020 Assembly, the image of Sr. Jean Marie moving with grace and intention in a room full of light is what I see. Her silent, prayerful presence threading through the torrent of words says it all. Movement forward, clear eyed. No rush. We will all arrive in due time. The current will carry us."
It's not about finances and all that stuff, but really the deeper core and value is to continue the reign of God in mission. All of us hearing the call together gives us strength to move together in the future."
The Province Chapter Planning Committee and facilitator Maureen Jenkins crafted a dynamic Assembly that energized and inspired participants who gathered online from October 19-22. Sisters and lay assembled — full partners in mission.
Each day began with Mass live-streamed from the chapel of the Good Shepherd convent in San Francisco. The worship services held unique and fulfilling surprises: a petition of prayer to the six Sisters who have passed since last Assembly; Bible readings in multiple languages; sign language interpretation; liturgical dance. Morning ritual followed Mass each day. Afternoon sessions began with Lectio Divina and ended with a closing ritual. The experiences were moving.
Quality time to reflect and share
The 2020 Assembly kicked off with a province review of an impressive past six years. And that was just the beginning. The Assembly was chocked full of quality time that allowed us to reflect upon and discuss the threads of Brother Pinto, Esther's Gamble, and province priorities that we worked on this summer, and to review the Inter-Continental Assembly that took place online in September. To think we did all of this in the uncertain time of pandemic and national and global upheaval. It boggles the mind!
The 2020 Assembly also included status reports about Good Shepherd ministries. Members of the management consulting firm Plante Moran presented their analysis of PMNA demographics and some possibilities for collaboration and continued inter-province visioning among the three U.S. provinces.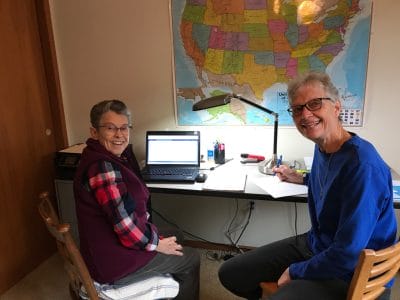 The Writing Committee presented the Province Focus Statement on the second day of Assembly. Mission Partners broke into small groups on the third day to analyze and edit the statement for clarity and meaning. We discussed amendments we could make to the statement to give it more power.
On the final day of Assembly, the Writing Committee presented a revised Province Focus Statement, and then shaped the statement for publication. You can find it at https://bit.ly/2HN2Rw6
Mid-North America's 2020 Assembly ended with a ritual. Everything we did at Assembly — pray, reflect, analyze, discuss, edit, report — helped us determine how we want to move forward as a province and Congregation.
Sisters Barbara Beasley, Gayle Lwanga Crumbley, Liz Schille, Mary Carol McClenon, and Patricia Marie Barnette served on the Province Chapter Planning Committee. Maureen Jenkins facilitated the Assembly, and Sr. Brigid Lawlor served as advisor.
Shaping next Congregational Chapter
What was said, shared and discovered during the 2020 Assembly and regional ICAs will help shape the essence of the next Congregational Chapter (postponed indefinitely until something changes with COVID).
Sister Ellen Kelly, Congregational Leader, extended the term of the current Leadership Team for PMNA until we have a Chapter next year. Local leaders also remain in place.
The Congregation's Life Seekers Committee will conduct further virtual meetings and theological reflections over the coming months to continue exploring and reflecting on the way forward for the congregation.
2020 Assembly videos
I made a short video to celebrate the 2020 Assembly. You can watch it on YouTube at https://youtu.be/83XKdW1wN9o
I also made a video to pay tribute to the six Sisters who have passed since the last Assembly in 2019. Here's the link to the video: https://youtu.be/DGGFWyPxjTU
You can also see the Sisters to whom we pay tribute on page 30 of the Nov-Dec issue of Items of Interest.
This should be enough for 24 hours and must not exceed daily dosage. cialis drug If the erection stays longer than expected or needed, you may take a lot of cold water to dilute its effect.