Sister Gabriel's zeal for justice is legendary among activist circles in some cities and within the Order of Sisters of the Good Shepherd. She has spent a lifetime involved in social justice causes and campaigns.
Sister Gabriel was still engaged in her lifelong commitment to right social wrongs when I met her at Boutwells Landing in 2013. Today, at age 96, she is in the memory care unit at Boutwells Landing Senior Living in Oak Park Heights, Minnesota.
Sister Gabriel doesn't remember most people she knows anymore. She is blind, and her hearing is now nearly gone. But my, oh my, there was a time when this spitfire of a Sister set the world ablaze with social justice activism. Her attitude and actions have had lasting impacts on people and communities.
Sister Gabriel's zeal for justice leaves mark
Among the legacies Sr. Gabriel has left behind are two pioneering youth-centered programs that she ignited decades ago in Omaha. The programs are still going strong. The Frog Town neighborhood in St. Paul, which was rife with pornography and prostitution before Sr. Gabriel targeted it for activism, is now a decent area to live.
Sr. Gabriel's efforts to clean up Frog Town had a profound impact on Sr. Maureen Kunz, who said, "I admired Gabe's willingness to address issues and pull Sisters and other people together to impact change. One reason I moved to Frog Town with other Sisters was because of Gabe's investment in that low income area.
She was seriously involved in shutting down porn and prostitution. By the time we got there the red light corner had been transformed into a community garden."

Here comes that radical nun
Over the years Sr. Gabriel and other Good Shepherd Sisters had notable effects on the Frog Town neighborhood through their work with girls and young children. Today a memorial garden in Frog Town honors Sisters of the Good Shepherd for the positive changes they brought to the neighborhood and the legacy of good works they left in their wake.
Not one to limit herself to a single cause, Sr. Gabriel found herself active in multiple causes while serving in the St. Paul Province in the 1970s through 1990s. Sr. Liz Schille remembers supporting Sr. Gabriel's protest actions against 3M Corporation. 3M was helping to produce deadly cluster bombs for war efforts abroad. Of particular concern to Sr. Gabriel were the "bomblets" that didn't explode and were left on the ground. They are lethal for anyone who comes across them.

"Gabriel never missed a single rally outside 3M's headquarters building. She campaigned tirelessly against glaring injustices that were being done in the name of Americans," Sr. Liz said.

Sr. Gabriel has always belonged to a large network of antiwar protesters and conscientious people who are committed to social justice. She was bold and provocative, which led to her getting arrested in Omaha for civil disobedience. Jail was a very sobering experience for her, according to Sr. Barbara Beasley. Even so, Sr. Gabriel didn't allow the fear of arrest to deter her from social justice causes.

Sr. Gabriel once told a reporter, "Whenever I hear people say, 'Here comes that radical nun,' I would say that's fine with me. A radical is one who gets at the root of problems."

Getting at the root of problems
Identifying herself as a radical sounds exactly right for those who have witnessed Sister Gabriel's zeal for justice and efforts to reform something unjust. Getting at the root of problems is what drove Sr. Gabriel to be a Witness for Peace in Nicaragua and the Philippines on the heals of the Vietnam War, and to take on a leadership role with the Alliance to End Repression in 1977.

Sister Gabriel's zeal for justice drove her to testify before Congress nearly 40 years later on voter ID, which would put an additional road block in the lives of the poor. In the many years between she championed gay rights and immigration reform. She advocated for improved quality of life for incarcerated elderly women and the blind and disabled. She protested military actions at the Strategic Air Command on Offutt Air Force Base and at the School of Americas in Fort Benning, Georgia.

One of her boldest and most courageous moves was organizing individuals and groups in the late 1970s to investigate Chicago's most powerful men and expose their corruption. The Chicago Tribune wrote an article lauding Sr. Gabriel's efforts to clean up Chicago's ward politics. The reporter said of Sr. Gabriel, "She will be remembered for her audacity and tenacity." The Chicago Sun Times called her the "Conscience of Chicago."
Showing vision and courage
Sister Gabriel wasn't afraid to swim against the tide publicly or within her own Province of St. Paul. While in Omaha in the 1970s she stopped construction plans for a large Good Shepherd residential facility for girls. At the time Social Services was changing rapidly. The trend was moving away from large residential institutions to smaller community-based facilities.

"Good Shepherd already had Girls Town in Omaha, and Gabe felt that constructing another large institution was not sound. She conducted a feasibility study of her own and determined that building the facility would take Good Shepherd in the wrong direction," said Sr. Gabriel's friend of 44 years Sr. Ellen Dolan.

According to Sr. Ellen, Sr. Gabriel was fervent in her pursuit of stopping construction because of the changing landscape in the field of human services. Despite influential philanthropists and benefactors having already donated the millions of dollars needed to construct the building, Sr. Gabriel succeeded in bringing construction plans to a halt. This troubled some Sisters and their supporters, among whom was Rose Kennedy, mother of then U.S. President John F. Kennedy.

"I've been very close to Sr. Gabriel since 1972 and can tell you that Gabe has always been fiery. She goes to the center of controversy and always has. She had vision and courage and knew building a large institution in the early 1970s was not the right thing to do," said Sr. Ellen.

Sr. Barbara, who was in the Omaha community in the 1960s, when Sr. Gabriel served as local leader, said, "Gabriel got as much flak as she did adulation. It wasn't all glory by any means."

Sister Gabriel's intrepid spirit
Sisters Ellen and Barbara have witnessed Sr. Gabriel's intrepid spirit on many occasions over the course of knowing her for nearly five decades.

"When she saw something that needed to be changed, she would find the resources and means to see it through. Whatever it took, she would drive it to completion," said Sr. Ellen.

Sister Barbara recounts the time Sr. Gabriel unseated a judge. "Omaha had a Juvenile Court judge who was less than merciful to girls who appeared before him. Good Shepherd had a large institution for teen age girls at the time. Spurred by her strong sense of justice, Sr. Gabriel took it upon herself to get the judge removed from the bench at the next election — a feat that was nearly impossible since he was an incumbent," Sr. Barbara said.

"She spread the word to everyone she could and invited all of the Sisters in Community to participate in her campaign to oust him. The judge was the most surprised person in the city when he was not retained. We got a much more humane and caring judge as a result," Sr. Barbara said.

Sisters witnessed this same spirit of determination when Sr. Gabriel led the Good Shepherd Community in Omaha during the time of Vatican II. This was a time when the Catholic Church was forging a new relationship with the modern world. According to Sr. Barbara, "Gabriel was very supportive of all of us who were stretching the boundaries then in so many ways: dress, routine, civil activities, and the like."
Joan Spiering said, "She and I used to joke about refurbishing the congregation. By that I understood she and I were in sync on the desire to live our gospel call in some ways that Good Shepherd wouldn't have necessarily identified with or easily approved at that time."

Sr. Gabriel was loyal to her causes and friends. Sr. Ellen said, "When Gabriel went to bat for you, she stepped up to the plate and went to bat for you all the way. She was bold and courageous, and she was loyal."
Relationships run deep
Relationships with people, more than her devotion to activism, are what have always mattered most to Sr. Gabriel. Even the women she connected with while serving time in jail for civil disobedience had become friends that she kept in touch with through the years. Her relationship with the Corrigans deepened into a family bond.

"All of my kids and grandkids grew up with Gabe. She has always been a part of our family. When my son named his daughter after her, someone asked, 'who would name their child after a radical nun?' We all said in unison, 'We would!'" Sancha said.

Sancha's friendship with Sr. Gabriel began on a spring day 50 years ago. It was St. Patrick's Day morning. Sr. Gabriel, the young superior of the Omaha Community, was walking to the neighborhood bakery to get a cake for the community celebration. She strolled past a bar that already had revelers. The doors burst open and out flew a very drunk young man who nearly knocked her down. She was in the modified post-Vatican II habit.

The young man, a good Catholic boy, introduced himself and gave her his business card before staggering off. She called him the next week and his wife answered the phone. Within a flash Sr. Gabriel had become a lifelong family friend to the future District Court Judge for the state of Nebraska Larry Corrigan and his wife Sancha.

Their friendship flourished over the decades and proved fruitful on many fronts. When Sr. Gabriel saw an unjust situation that needed to be changed she drove it hard. Judge Corrigan gave her good counsel at every turn.

"Sister Gabriel has always lived what she believed. This is why she has been so respected in the social justice community," said Sr. Gayle Lwanga Crumbley.

While serving as Director of Good Shepherd National Advocacy Center from 2003 to 2014, Sister Gayle had a unique opportunity to experience first-hand Sr. Gabriel's commitment to activism and ability to form deep and meaningful friendships among diverse people and groups.

"Sr. Gabriel has been open minded since she was a young Sister. This quality resulted in her having an eclectic circle of friends to draw upon to support her many different causes," said Sr. Gayle.

Sister Gabriel's spiritual side
But not all of her friendships were based in activism. Sr. Gabriel had a deeply spiritual side to her nature, which was also reflected in her relationships.
"Gabe hobnobbed with prominent biblical scholars and theologians. Her brother Simon is a Passionist priest," said Sr. Ellen.

"I loved it when Gabe invited her scriptural friends to the house. Because of her connections and friendships — especially while she was in Chicago — we had truly extraordinary conversations with internationally revered leading figures in Catholic Church movements like Frs. Carroll Stuhlmueller, CP; Raymond Brown, SS; and Don Senior, CP. It was great fun!" Sr. Ellen said.

Sr. Gabriel embraced both the contemplative and prayerful side of her nature and her bent toward extroverted activism. One day she journeyed to the Desert House of Prayer near Tucson, Arizona, for a personal spiritual retreat. She ended up staying there for years to run the center.

"The time in the desert renewed her. It allowed her to restore her spiritual core so that she could continue to carry out her wide array of non-violent protests for years to come," said Sr. Ellen.

Answering the Call to religious life
Sister Gabriel was very steeped in her faith even as a young girl, according to Sancha Corrigan. Sancha said, "Gabe told me the story about her Call to religious life. She was a young girl and had been on a date. She came home from the date happy, but something gnawed at her. She sat on her bed, propped against the wall with pillows, and drew her legs to her chest. As she hugged her knees she started asking God to guide her. It came to her that night that she was being called to religious life. She chose to be a Sister of the Good Shepherd because it was the only Catholic Order that engaged Sisters in social work.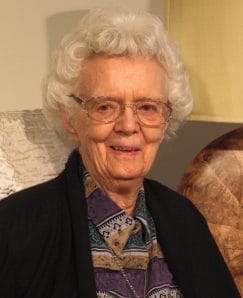 "Gabe's zeal for social justice activism and prayerful devotion to God have always demonstrated the two parts of who she is. She is the most unique woman I've ever known. She is truly a remarkable person," said Sancha.

Sr. Gabriel served as Sancha's spiritual director for many years. Also marked by the spiritual facet of Sr. Gabriel was Sister Liz Schille.

"Gabe was leading a weekend spiritual retreat in St. Paul at one point in my early religious life. I took the retreat and was struck by her spiritual and scriptural foundation. She helped me to realize during that weekend retreat how the meaningfulness of justice issues creates both a depth and passion for doing what's right. That experience allowed me to take Gabe seriously, and not to just see her as an agitator. From that weekend forward I participated in social justice causes that Gabe invited me to," Sr. Liz said.

Living an authentic life
One of Sr. Gabriel's dear friends, the late Minnesota Senator Paul Wellstone, shared her values and seemed to have had Sister Gabriel's zeal for justice in mind when he pronounced in his speeches, "Never separate the life you live from the words you speak."

As Sr. Gabriel grew older, she still kept up-to-date on all of the issues that filled her with deep emotion. When her eyesight prohibited her from reading she enlisted friends and volunteers to read for her. As a result, her readers always seemed to be enlightened and much more aware of the needs of the world, the planet and the poor, according to Sr. Barbara Beasley.

Sr. Liz said the last event that Sr. Gabriel invited her to participate in a few years ago was in the backyard of the Visitation Sisters in North Minneapolis. The people at the function were ex-convicts who had been locked away for murder. They had served their time and were now out of prison. Mingling with the ex-cons and their families were the families of the murdered victims.

"Gabriel was drawn to the spiritual nature of Restorative Justice as a way for bringing people together to reconcile with each other. She is, and always has been, an exceptional woman," Sr. Liz said.

In June 2013 Sr. Gabriel received the Making Democracy Work award from the League of Women Voters. Over the decades she has been recognized at many dinners and awards ceremonies for her socially progressive views and achievements.

Boutwells Landing, where Sr. Gabriel lives in Minnesota, has a Memory Lane Archive Program that records the life histories and stories of its residents. Each DVD offers a unique perspective on the person who has been interviewed. The stories hold great wisdom for those that take the time to listen and learn from the elders who have traveled paths different from their own. A recorded interview with Sister Gabriel is among the collection. Sister Gabriel's zeal for justice comes through the interview loud and clear.

You hear Sr. Gabriel say in the interview, "It was my privilege to have brief times in the Philippines, Nicaragua, China, France and Rome. My favorite assignment has been, and is, Social Justice work. However, what I value most is being a Sister of the Good Shepherd."